Emmerdale's Eden Taylor-Draper: 'Belle has a breakdown in a cafe – her family find her crying on the floor!'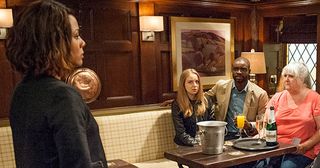 Bailey's wife Angie hears Belle Dingle talking to herself in Emmerdale and realises her pregnancy is a lie. So she tells everyone, reveals Eden Taylor-Draper
Belle Dingle's baby lies are brutally exposed in Emmerdale and, following a dramatic breakdown, she goes missing. Eden Taylor-Draper reveals all to Soaplife.
The drama starts with Belle's first baby scan, doesn't it? "Yes. She's dreading it. She has an appointment to have a scan with Bailey [Micah Balfour] in tow. She knows she's going to be found out and the fact Bailey's a doctor makes it even worse. She's in a panic."
What does she do? "Charity [Emma Atkins] thinks Belle is really pregnant and she shows her a baby scan of Noah, to reassure her it won't matter that the baby is a bit smaller than it should be at this stage in the pregnancy. Belle takes Charity's scan and decides to pass it off as her own, telling Bailey the appointment was brought forward and she had to go on her own."
Does the scam work? "Bailey's upset, but he's over the moon when he sees the photograph and that makes Belle feel terrible because she knows it's not real."
Why hasn't anyone noticed that Belle is acting oddly? "She's done a really good job of hiding her illness. Her family also have problems of their own: Lisa [Jane Cox] has got Zak [Steve Halliwell] to worry about, and Charity's busy trying to impress Cain [Jeff Hordley]."
How does Angie learn Belle isn't really pregnant? "Belle gets in a bit of a state when Bailey gets excited about the scan picture, so she rushes to the loos at The Woolpack to calm down. Angie [Nina Toussaint-White] has turned up to see Bailey, goes to the loo and hears Belle have a row with Ellie over the fake pregnancy. Angie knows Belle has a history of mental illness and goes out into the pub and blurts out the truth."
How does Belle react? "Ellie starts screaming in Belle's ear and she starts talking to her in front of everyone. Of course, they can see there's nobody there and they realise her illness has returned. It's an awful moment for Belle. She runs off and has a breakdown in the cafe, where her family see her crying on the floor."
What happens next? "Belle runs away. She's so caught up with Ellie that she can't think straight. She doesn't know what to do or who she is any more."
Will she be found before something bad happens? "You'll have to wait and see. It will go on for a while. What Belle really needs is help. She isn't capable of sustaining a relationship with Bailey. She should be with her family."
Emmerdale, ITV
Get the latest updates, reviews and unmissable series to watch and more!
Thank you for signing up to Whattowatch. You will receive a verification email shortly.
There was a problem. Please refresh the page and try again.