Emmerdale boss Kate Oates reveals shocks planned for 2015 - especially for Charity and Jai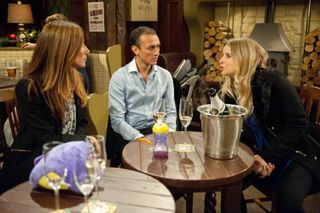 The ripples of all the Christmas dramas will be felt long into 2015, promises Emmerdale's executive producer Kate Oates in an interview.
There will be no happy ever after for Katie and Andy, Charity goes on trial, Emma Barton rocks the world of her family - and Moira's - Alicia and David face a big challenge, Laurel's going to turn to Ashley - as well as the bottle and Aaron's relationship with Robert will be painful for him - possible in more ways than one.
Here's what Kate has to say about Emmerdale's New Year… First, she talks about Andy and Katie - and it's not good for them.
"I'm gutted that Sammy [Winward, who plays Katie] is leaving the show but it does give us some great drama. A lot of people might think that the battle between Katie and Robert [Ryan Hawley] is what drives her out but we've also seen that Andy is starting to lose a little bit of patience with her and that obsession she has with his brother. The big question is: will Katie leave because of Robert…or is something a bit closer to home?"
Then there's Charity…
"We're kicking the New Year off with Charity's big court case. Now, very little ruffles Charity [Emma Atkins], so when she finally faces that judge, she's got Rakesh [Pasha Bocarie] on her side and he knows he's got to give her a winning defence. Court cases are only interesting if there are a few twists and turns there… You'll just have to wait and see if Charity fights another day."
And what about Jai (Chris Bisson)?
"Jai's got what he wants. He's got Megan [Gaynor Faye], they're married, and he's got Archie back, which is all he's been craving for the past year," says Kate. "People can't be happy for too long, though. We've got a twist in the Jai story which I'm hoping the audience won't see coming…"
Uh-oh.
2015 doesn't sound good for Aaron, either…
"When Danny Miller came back I knew we were going to give Aaron an exciting new relationship. Aaron doesn't do well under pressure and his relationship with Robert is not going to run smoothly. So, how will that affect him? And how long will they be able to keep their affair a secret?"
Aaron's not the only villager facing a challenge…
"David [Matthew Wolfenden] and Alicia [Natalie Anderson] will be brought together with the White family working as a family unit against something that will really challenge them," Kate reveals.
But it doesn't sound like Emma Barton (Gillian Kearney) is interested in working as a "family unit" with her sons and her ex…
"The thing about Emma arriving is that she stirs up a massive character group. There isn't just her sons to think about, there's James (Bill Ward), Cain (Jeff Hordley), Moira (Natalie J Robb), Chas (Lucy Pargeter), there's Adam (Adam Thomas). It will be a big, explosive mess," promises Kate.
Another mess is Laurel (Charlotte Bellamy) and Marlon's relationship…
"I've got a long story ready for Laurel and Marlon [Mark Charnock]. I think people can see where the story's going initially but we've got some twists on the alcoholism story," says Kate. "People will enjoy seeing Laurel's relationship with Ashley [John Middleton] during this time. Ashley's with Harriet [Katherine Dow Blyton] but we've got a great story for him in the pipeline.
"We'll also be paying tribute to a really special Emmerdale character in the first half of the year which will be very special," adds Kate.
"I really hope viewers enjoy 2015. Stay tuned!"
Emmerdale continues on ITV, New Year's Day, 7.30pm.
Get the latest updates, reviews and unmissable series to watch and more!
Thank you for signing up to Whattowatch. You will receive a verification email shortly.
There was a problem. Please refresh the page and try again.