Emmerdale heartbreak…and joy? David and Jacob need Alicia – and she is coming home!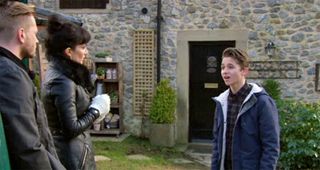 That David Metcalfe (Matthew Wolfenden) is going to be battling cancer is a recent shock for Emmerdale fans.
Here's another one: his estranged wife Alicia (Natalie Anderson) will be returning to the village!
In recent episodes, viewers saw Jacob (Joe-Warren Plant) desperate for the woman he calls "Mum" to show up for his 13th birthday and be reunited with David.
"I've got something planned for you," David told him on his big day.
"Yeah, I know. My mum's coming and I've got something planned as well. I'm going to tell her everything," Jacob said angrily.
Leyla had to tell Jacob that Alicia wouldn't be home for his birthday
He was under the impression – wrongly – that David and Leyla, Alicia's sister, were having an affair.
"No, your mum's not coming," Leyla (Roxy Shahidi) told Jacob, gently.
"You said you'd get her and today's my birthday so it's obvious," Jacob insisted.
"Look, your mum will be coming but that's not today. You've got that wrong," Leyla told him.
Ah, so Alicia is coming back!
The way they were: David, Alicia and Jacob
But can she really live in Emmerdale again? Alicia has got over being shot by Cameron (Dominic Power) and she learned to live with Leyla in the village… That was a tricky one, as Leyla is actually Jacob's biological mother. That had been a secret but the truth came out and Jacob loves Leyla but still thinks of Alicia as his mother.
The reason Alicia was keen to get away from Emmerdale is still there, though: Lachlan (Thomas Atkinson). The teenage boy sexually assaulted her and then told everyone she had groomed him.
By the time the truth came out, Alicia was broken and couldn't face staying in the village.
Her new life in Portugal with Jacob and David, soon fell apart, too, though. First David returned to Emmerdale, then Jacob.
David seems resigned to a life without Alicia, but could they still save their marriage?
There hasn't been anyone for David since he returned. He loves Alicia and, right now, he needs her. So does Jacob. He's devastated by David's illness and having his mum around would make him feel much more secure.
"I told Jacob they can fix the cancer," David told Leyla.
Jacob is terrified of losing David
"Well, you've done it now," Leyla said. "You've got his hopes up. You shouldn't have done that in case the worst comes to the worst."
David really needs Alicia right now.
Will she return to help him battle cancer? Or will she return to make him – and Jacob – feel even worse by telling David she's back to finalise their divorce?
Emmerdale, ITV.
Get the What to Watch Newsletter
The latest updates, reviews and unmissable series to watch and more!