Emmerdale emergency! Rebecca puts Chrissie in hospital, reveals Louise Marwood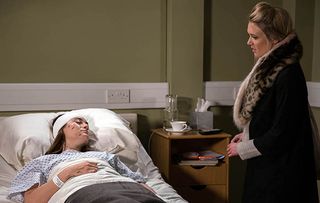 Louise Marwood reveals there's yet another furious fight between sisters Chrissie and Rebecca White... and one of them is badly hurt
Chrissie and Rebecca White's sibling rivalry has been entertaining and, at times, dramatic. On top of that, Chrissie's son Lachlan has been tormenting her from the Young Offenders' Institution he's been in since he confessed to shooting his grandfather, Lawrence.
Now Rebecca wants to make peace – but her efforts to show Chrissie how much she loves her go spectacularly wrong.
"They end up having a fight," actress Louise Marwood tells Soaplife. "Chrissie has a nasty fall and ends up hurt."
And in hospital! How much trouble is Rebecca in now?
Why do Chrissie and Rebecca hate each other so? "They are just very different people and I think Chrissie feels her sister is muscling in on her patch. She feels pushed out by Lawrence [John Bowe] and wants it back to the way it was when it was just the three of them living together, her, him and Lachlan [Thomas Atkinson]. Plus, everyone likes Rebecca. That doesn't help, neither does the fact that she's confessed she had an affair with Robert [Ryan Hawley] when he was with Chrissie!"
So, how does Chrissie react when she learns Rebecca has involved Robert in the business? "She is furious. She wants nothing to do with him and is convinced they are plotting against her."
What happens when Lachlan is back up in court? "He is sentenced. Basically, he has to serve time and Chrissie is devastated. He's the apple of her eye and she's gutted to see him behind bars. She can't help feel that it's her fault and she should have been able to protect him."
Is that what leads to the fight with Rebecca? "No. It's do with their mum's wedding ring. Lawrence gives it to Chrissie as an olive branch and Rebecca [Emily Head] decides to get it engraved as a surprise for her. It goes missing and Rebecca gets a lot of flack over it. When she then sees it around Chrissie's neck she tries to grab it, they fight and Chrissie ends up flying over the banisters. It's quite bad – she ends up in hospital."
Would she report Rebecca to the police? "I think she really would. It's what Rebecca did to Lachlan after all."
What's it like being Emmerdale's biggest bitch? "I'm thoroughly enjoying it. I love the fact that Chrissie's always plotting and I never know what she's going to do next! The viewers love it. Some of the older ladies hate her, but I think they enjoy hating her."
Would you like to see Chrissie find her birth father? "I'm sure they won't let that go, he'll be out there somewhere. Nothing stays dormant forever in soap – I wouldn't be surprised if he turns up sooner rather than later."
Emmerdale, ITV
Get the latest updates, reviews and unmissable series to watch and more!
Thank you for signing up to Whattowatch. You will receive a verification email shortly.
There was a problem. Please refresh the page and try again.