Emmerdale's Charlie Hardwick reveals Val's 'get out of jail' card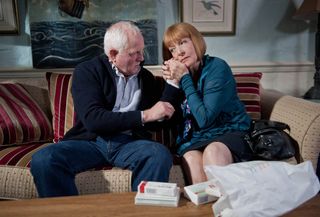 Val is formulating an audacious but foolhardy plan to fake her own death to avoid going to prison, says Emmerdale (opens in new tab)'s Charlie Hardwick, who last month announced she was leaving the ITV soap (opens in new tab)...
How scared is Val of going to prison?
"She is beside herself. She thought it was a bit of a laugh helping Bob (Antony Audenshaw) by pretending to be Brenda (Lesley Dunlop) and she didn't understand the gravity of the situation. She is terrified now as she feels she cannot go to prison. She says 'I have HIV, I'll be all right once they know about that', but she won't."
What makes her think of faking her death?
"Tracy (Amy Walsh) makes a quip about how Val should get hold of Eric's insurance and the cogs in her brain start to work."
It does seem a bit drastic…
"Eric (Chris Chittell) is diagnosed with a heart condition and Val really believes that he might die due to the tension she has caused. She wants to solve the problem and that's what she comes up with. She remembers how someone from the village fell off a ferry 10 years ago and thinks 'I will fall off a ferry and the body will never be found.' Eric can go 'boo hoo' and then join her in Mexico. What could possibly go wrong?"
What does Pollard think of the madcap scheme?
"He thinks she's crackers. He gives her a reality check and explains that if she does this, she will not be able to tell anybody ever. That means she will have to cut ties with everybody she knows. Friends and family. All the people who matter to her. That frightens her a bit, but it doesn't stop her. She is utterly serious about this."
And she even starts planning her own funeral?
"Well, Val would want a big one, wouldn't she? She'd like a fabulous send off and she begins by writing her own eulogy. She thinks she had better write some nice things before people say anything bad about her!"
Get the latest updates, reviews and unmissable series to watch and more!
Thank you for signing up to Whattowatch. You will receive a verification email shortly.
There was a problem. Please refresh the page and try again.