Emmerdale's Emma has it in for Chas – who could be pregnant, reveals Lucy Pargeter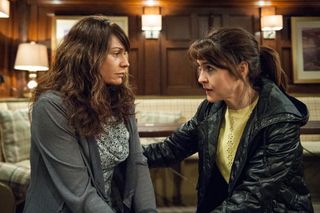 (Image credit: Andrew Boyce)
Chas thinks her PTSD is back, all because of Emma and possible pregnancy… Emmerdale's Lucy Pargeter (opens in new tab) tells the whole story to Soaplife...
How is Chas feeling in the wake of Gordon's death?
"For Chas, Gordon's death is not a relief, but it is some kind of justice. However, she's worried about the affect it has on Aaron [Danny Miller (opens in new tab)], who'll never get closure. Gordon [Gary Mavers (opens in new tab)] will never admit what he did and Chas is concerned about him and Liv [Isobel Steele (opens in new tab)]."
What's going on with DS Wise?
"He was a constant reassuring arm, throughout the whole trial. Whenever Chas went on one of her vengeance trips, he would say, 'No, trust us, we'll sort it!'. He fancies Chas, but she isn't ready for a relationship so soon after Gordon."
How does she end up getting run over by James?
"She has a binge session with Charity in the pub and, next day, she goes for a walk to clear her head. James [Bill Ward (opens in new tab)], meanwhile, is rehearsing a proposal as he plans to ask Emma to marry him. Neither of them are concentrating and, when Chas steps in front of the car, it clips her and she hurts her hand."
And how does that lead to her doing a pregnancy test at his house?
"James takes her to hospital and a nurse asks Chas if she might be pregnant and it just kind of comes out. She has a pregnancy test, she's been meaning to do, and she tells James about it. She does it at his house, but it gives Emma [Gillian Kearney (opens in new tab)] the wrong idea."
Then Chas has a panic attack, right?
"The bar is trashed and she freaks out. She's been having nightmares and she isn't sleeping well. She thinks her PTSD must be back, but can't think how because she's been having treatment and it's all been going well. Everything is getting on top of her and she has this panic attack, which Emma witnesses."
Ah, Emma… Why does Chas let Emma help her?
"Emma helped her before when she was ill. She helps her to get her breath and she suggests getting her into a mental health clinic. She's a nurse so Chas has no reason to be suspicious."
Is the PTSD back?
"You'll have to wait and see. Chas will always have to keep an eye on her mental health. PTSD is something you can live with and deal with, but you have to be on guard to nip it in the bud if it reappears."
Are you enjoying running The Woolpack with Charity?
"I love Emma Atkins (opens in new tab) [who plays Charity] to bits. She's a breath of fresh air and extremely funny, but I do miss Liz Estensen (opens in new tab) [who plays Diane] dearly, as we worked behind the bar for so many years together."
What is in store for Chas?
"I've got no idea. I haven't had a meeting with our new producer. I heard a rumour via a co-star that Chas was getting together with a certain member of the cast. I'd be very pleased if this happens as I love them dearly…"
Emmerdale (opens in new tab), ITV
Get the What to Watch Newsletter
The latest updates, reviews and unmissable series to watch and more!