Emmerdale's Jason Merrells reveals family separation is the toughest part of his job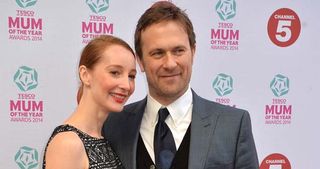 Emmerdale star Jason Merrells says being separated from his family is the toughest part of the job.
The 45-year-old actor, who spends time in Leeds to film his role as Declan Macey on Emmerdale, admitted not being together with his partner Emma Lowndes (pictured) and their two-year-old daughter, Martha, is hard.
"It's been really tough being away from them. They have been coming up here a bit, but you miss them so much," he told the Daily Mirror.
"Emma's about to be in the new series of Downton (Abbey), which is very exciting. We will make it work somehow with Martha. It's the actors' thing - we will manage somehow."
Jason, who has four other children from previous relationships, keeps in constant contact with all his kids.
"I have been a dad since I was almost a kid (at 22), so I have been a dad most of my adult life. So I'm very used to it. It's not easy, but I've managed. I see them all regularly," he said.
As for his youngest, he added: "We do FaceTime and she's very good at it. She sometimes does it on her own which is amazing. She picks up her mum's phone and dials."
Jason's alter-ego is due to marry Charity Tate (Emma Atkins) on the show. It comes after a trying few months, following his attempt at suicide by setting fire to Home Farm and his discovery of Charity's pregnancy, without knowing she has planned an abortion.
The actor hinted Declan's third marriage could work, explaining: "I think he loves her. It's a grown-up love - not head in the clouds. Both of them have been around the block."
Get the latest updates, reviews and unmissable series to watch and more!
Thank you for signing up to Whattowatch. You will receive a verification email shortly.
There was a problem. Please refresh the page and try again.