Emmerdale's Samantha Giles: An open marriage? 'What's the point of getting married?'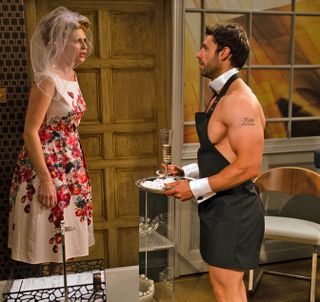 (Image credit: Mark Bruce)
Emmerdale (opens in new tab)'s Bernice cheats on fiance Lawrence with Andy on her hen night. But it still may be wedding on, Samantha Giles tells Soaplife…
Bernice Thomas has got her dream wedding. But there's a problem… "She still has feelings for Andy," Samantha (opens in new tab) reveals… "If she thought he'd have her back, she'd cancel the wedding."
So Bernice isn't 100 per cent committed to the wedding?
"She's very unsure about whether or not she's doing the right thing and it's building up like a pressure cooker. Kerry keeps saying there's no point in marrying Lawrence because he isn't interested in sex and her mum, Diane [Elizabeth Estensen (opens in new tab)], doesn't approve of the White family."
Then she sees a half-naked Andy on her hen night…
"Kerry [Laura Norton (opens in new tab)] has set him up as a butler in the buff and Bernice is furious. She does a runner and Andy [Kelvin Fletcher (opens in new tab)] comes after her. He really hits a nerve by asking her if she's going to be happy. Bernice feels as if he cares about her."
He cares enough to sleep with her! How is Andy towards her the next day, though?
"Bernice asks him if that meant anything for them and he says, 'It was great, but I can't give you anything else'. Her heart is broken really. She would call the wedding off if she thought Andy wanted to be with her."
What does Lawrence have to say about it?
"When Bernice gets back to Home Farm, she realises Chrissie [Louise Marwood (opens in new tab)] saw her with Andy and has told Lawrence [John Bowe (opens in new tab)]. She explains what happened. He's such a decent and honest man, she feels she owes him the truth."
Does he still want to marry her?
"Yes - and he offers her an open marriage, so she'd be free to sleep with other men."
Could an open marriage work between them?
"I'd tell her not to do it. In my opinion, there's no such thing as an open marriage. What's the point of getting married?"
So what will happen if they do get married?
"They get on well and they're still an interesting partnership. They're an odd match, but it seems to work. The fact that they don't sleep together is interesting. It hasn't been done before in a soap."
Emmerdale (opens in new tab), ITV.
Get the latest updates, reviews and unmissable series to watch and more!
Thank you for signing up to Whattowatch. You will receive a verification email shortly.
There was a problem. Please refresh the page and try again.