Emmerdale's Sammy: 'My daughter defends me'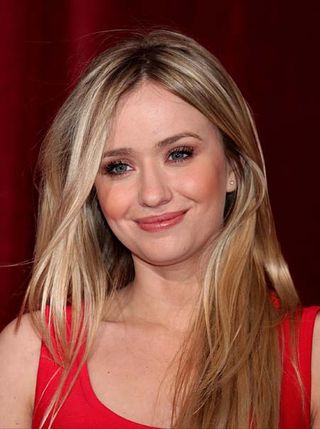 (Image credit: PA Wire/Press Association Images)
Emmerdale star Sammy Winward has revealed how her seven-year-old daughter Mia sticks up for her. The 26-year-old, who plays newly-engaged Katie Sugden in the ITV1 soap, admitted that her daughter often mistakes screen life for real life and has even scolded her co-star Gaynor Faye (Megan Macey). "She hates the fact that Megan is horrible to me on the show. The other day she picked up the phone to Gaynor Faye, who plays Megan, and told her, 'If you're mean to Mum again, I'll have your guts for garters'," she told the Daily Mirror. Sammy admitted that Katie's romantic liaisons on screen often confuse Mia too. "She's finally started watching the show and she was asking who are these people I keep kissing, because let's face it, Katie's had her fair share of men. Mia still gets confused about what's real and she was very mixed up when she heard I was getting married." The actress admitted she is "scared to death" as she prepares to take centre stage for Emmerdale's 40th anniversary live episode, which will be shown on ITV1 in October. "My biggest fear is corpsing - just starting to laugh and not being able to stop. It happens all the time when we're filming," she said. "It's such a massive thing, such a responsibility that I'm terrified something will go wrong in front of millions of people, and it will be my fault. This is probably the biggest challenge I've ever faced - the most terrifying thing I've been asked to do."
Get the latest updates, reviews and unmissable series to watch and more!
Thank you for signing up to Whattowatch. You will receive a verification email shortly.
There was a problem. Please refresh the page and try again.