Ex-Emmerdale star Sammy Winward on her new book about a time-travelling princess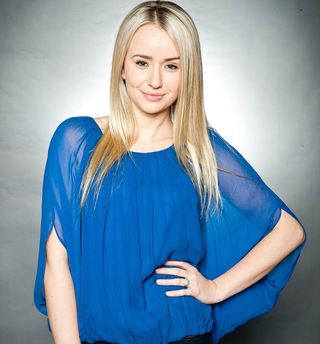 Actress-turned-author Sammy Winward talks to Soaplife about her new book, her new TV role - and why she's glad her Emmerdale character was killed off...
Some former soap stars mourn their characters when they get killed off. But Sammy Winward (opens in new tab), who played Emmerdale (opens in new tab)'s Katie Sugden for 13 years, isn't one of them. "I'm happy she was killed off," beams Sammy, in a chat with Soaplife. "When I initially told Emmerdale I wanted to leave, I wasn't sure about them doing away with her for good, but now I'm pleased with the way it's turned out. Knowing I can't return to the comfort blanket that was Katie and Emmerdale has been very good for me. It's spurred me on to work hard and get on with new projects – like finishing the children's history book I've written, Princess Phoebe Meets the Tudors."
How did the book come about?
"I've been a history geek since I was at school. It's my passion. I spend a lot of my spare time reading about princesses and famous women from the past, and watching documentaries about them. If I didn't act, I'd want to be a historian."
Does your daughter, Mia, share your passion?
"I've always told, Mia [age 10] about these women and their lives. I'd try and make them sound as magical and exciting as possible. Mia was - and still is – as fascinated as I am. It made me think it would be a great idea to write something. I had a look around and realised there was nothing like it – a story as well as the facts – and decided to do it!"
Is Princess Phoebe based on Mia?
"[Laughs] She's not, although the illustrations of Princess Phoebe do look a bit like Mia, funnily enough. Phoebe's a modern-day princess who's able to time travel!"
How?
"She finds a magical, time-travelling album of pictures of her ancestors in her mum and dad's wardrobe. She's able to go back in time to the Tudor court and meet them – people such as Anne Boleyn, Elizabeth I, Lady Jane Grey and others. They tell her the stories of their lives and teach her lots of lessons about being a good princess."
Will there be another book of her adventures?
"Hold on, this one's only just been published! I hope there will be another one, though. Lots of other ones, in fact. I've got lots of ideas. I'd like her to meet the warrior princesses of history, Chinese and Indian princesses and women like Joan of Arc."
How long did the book take to write?
"I started it two years ago. Obviously I couldn't commit all my time to it while I was still working at Emmerdale, but I worked on it when I had time off. It's been important to me to enjoy the process of doing it."
You're also in the middle of filming a new ITV drama, aren't you?
"Yes. It's a thriller called Prey (opens in new tab) and I'm loving it. I'm playing the daughter of a character played by Philip Glennister (opens in new tab). My character's heavily pregnant and in real danger – and Philip's character must find her, although he has to break the law to do this. He's the prey, if you like."
Is it very different to filming Emmerdale?
"There's a lot more rehearsal time and we get to talk about our characters and the script, which is great. Once we're on set, it's quite fast-paced, but we're allowed to move around and have the cameras follow us, rather than having to stand on a particular mark – like you do at Emmerdale."
Are you still in touch with your Emmerdale pals?
"Only about every other day! We call and text each other all the time. The group of Emmerdale girls is very tight – Lucy Pargeter (opens in new tab) [Chas]. Charley Webb (opens in new tab) [Debbie], Laura Norton (opens in new tab) [Kerry] Natalie Robb (opens in new tab) [Moira]… We're very close."
Princess Phoebe Meets the Tudors, by Sammy Winward, is published by Candy Jar Books. Price: £6.99.
Get the latest updates, reviews and unmissable series to watch and more!
Thank you for signing up to Whattowatch. You will receive a verification email shortly.
There was a problem. Please refresh the page and try again.