'Joanie's feelings for Zak run deep,' warns Emmerdale's Denise Black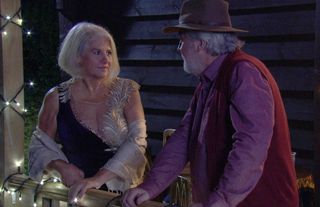 Joanie and Zak can't resist each other in Emmerdale. But what if Lisa finds out?
Soaplife has some questions for Denise Black (opens in new tab)…
Does Joanie like living with the Dingles?
"She's in heaven. She was so isolated before. Looking after a child on your own at her age isn't easy and, now, she's surrounded by this huge family. She's also very good friends with Lisa [Jane Cox (opens in new tab)]."
So why is she making moves on Zak?
"I don't think she's being divisive or manipulative at all. She's a white-haired lady bringing up a kid and didn't for a minute see this coming. What she responds to are kind hearts and Zak [Steve Halliwell (opens in new tab)] and Lisa both have one."
How does Zak end up buying her a dress?
"She's in a paddy as she has [like me] lost weight and has nothing to wear for a performance she's putting on at the village hall. Zak sweetly offers to take her into town. She tries on this dress of her dreams and it looks fabulous. He has some cash in his pocket that he should be spending on Belle [Eden Taylor-Draper (opens in new tab)], but uses it to buy the dress, although Joanie does promise to pay him back."
Does she realise she's in dangerous territory?
"There has been this kiss, but I don't think Joanie really acknowledges it. She is very touched by the fact that Zak has faith in her and has noticed her – that is dangerous."
Is Joanie nervous before the show?
"Yes, she is. Joanie was a singer in the past and did all the clubs, but she hasn't done it for a long time. I was so scared doing those scenes that my mouth went dry."
What does she sing?
"I Only Want To Be With You. Zak is watching, so it's a bit of a come-on."
What happens when he kisses her after the performance?
"It's dreadful for both of them because it isn't the first time it's happened, so something has shifted up a gear. Zak loves Lisa and it's a mess. Joanie will have to make a decision."
Can they stop this before it becomes a full-blown affair?
"I don't know if they can. The feelings run very deep and are genuine. Joanie should really move out and never see either of them again, but where's the fun in that?"
Emmerdale (opens in new tab), ITV.
Get the latest updates, reviews and unmissable series to watch and more!
Thank you for signing up to Whattowatch. You will receive a verification email shortly.
There was a problem. Please refresh the page and try again.