Emmerdale's Katherine Dow Blyton: 'Cain pulls Harriet in for a kiss – and she goes for it!'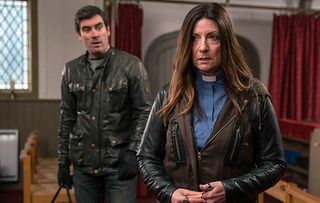 The village vicar says goodbye to one former lover, but it looks like she may have a new man in her life! Emmerdale's Katherine Dow Blyton reveals all
Conducting the service for her friend and former lover Ashley Thomas is tough for vicar Harriet Finch, and her facade cracks several times.
Afterwards, she finds solace in an unlikely form. "She walks in on Cain stashing stolen goods in the church," Katherine Dow Blyton told Soaplife. "She's furious, but then he kisses her. Again!"
Harriet and Ashley were close… How's she dealing with his death? "She's really struggling. Harriet still has a lot of feelings for Ashley [John Middleton]. She proposed to him and once planned to spend her life with him. She feels a bit guilty, too, over the fact she wasn't really involved in his illness and she wishes she'd been more helpful. She feels she let Ashley and Laurel [Charlotte Bellamy] down."
What happens when Harriet conducts the funeral service? "It's a sad day and Harriet tries to hold it together. But she isn't just a vicar. She's somebody who's grieving for a man she loved dearly. She lets her emotions show. She stutters over her words, gets things mixed up and she's left feeling she's been unprofessional."
How does Cain help? "He offers Harriet a drink when the service is finished and she's really surprised by his sensitivity."
But then she finds him hiding stolen goods in the church again! "And she's furious! She feels humiliated. She warned him before that he wouldn't get away with it and make a fool of her."
What's Cain's reaction? "He pulls her in for a kiss and she goes for it."
Does Harriet have a dark side that Cain might draw out? "Everybody has a dark side. Harriet's human and she has her faults. She struggles, like everybody else, to try to be good and do the right thing."
What's it like for you working with Jeff [Hordley, who plays Cain]? "I've played Harriet for three-and-a-half years now, yet this is the first time Jeff and I have had some quality time together… and it's been great fun."
Emmerdale, ITV
Get the What to Watch Newsletter
The latest updates, reviews and unmissable series to watch and more!