Emmerdale's Louise Marwood: It's war when the Sugdens find out Chrissie framed Andy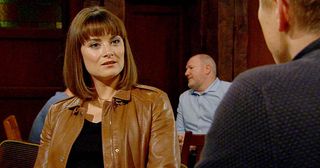 Desperate Chrissie sees her scheme to frame Andy exposed in Emmerdale – and the Sugdens seek revenge! Louise Marwood reveals all to Soaplife…
That familiar smug look of superiority is wiped off Chrissie White's face when her sister, Rebecca, reveals she framed Andy Sugden for shooting Lawrence!
Louise Marwood reveals to Soaplife what happens…
So how is Chrissie's villainy exposed? "The vase used to tie Andy [Kelvin Fletcher] to the crime resurfaces and Chrissie's truly panicked. It's a serious offence she's committed, but she's still determined to destroy the evidence."
What is the significance of the vase? "Chrissie made the shooting look as if it was part of a burglary and planted a piece of a vase in Andy's car. She hid the rest of it and she knows it would implicate both her and Lachlan [Thomas Atkinson] if it were found."
Where did she hide it? "It's in a stream. When Rebecca [Emily Head] lies and says to Lachlan that Robert [Ryan Hawley] knows there's evidence that they framed Andy, he goes to retrieve it. The trouble is, Rebecca is watching and following him."
What happens when she later runs into Chrissie? "They end up having a fight. Rebecca falls down hard and hits her head. She's out cold. Chrissie and Lachlan flee and try to hide the vase in the bonfire up at Home Farm, where they're having a fireworks party."
The Rebecca turns up, right? "Yes. She makes quite an entrance, too, and Chrissie feels sick as she knows Rebecca is about to stick the knife in."
What happens? "Rebecca tells everyone Chrissie framed Andy. Lawrence [John Bowe] rushes to her defence, but Chrissie knows the Sugdens are going to take this very badly. Lachlan cooks up a story that he was just fishing down at the stream, but she's horrified to find out he was filmed."
How does Diane (Elizabeth Estensen) react? "She's furious and she demands to know the truth. She bursts into the kitchen at Home Farm to see Chrissie with Lachlan and she accuses them of a cover-up."
We hear that's not all either… "No. There's a press event for the adventure park and Diane, Rodney [Patrick Mower] and Doug [Duncan Preston] turn up waving placards outside the gates, urging guests not to go in."
What does Chrissie do next? "She goes to Brook Cottage and serves an eviction notice on Doug, Bernice [Samantha Giles] and Diane. Then, Diane admits she threw a brick through Chrissie's window. She hits back by declaring that they have just seven days to pack up and move out."
How far will she go to protect Lachlan? "She's very loyal, but Lachlan's troubled and he's done some dreadful things. You'll have to wait and see if she can keep covering for him…"
Emmerdale, ITV
Get the What to Watch Newsletter
The latest updates, reviews and unmissable series to watch and more!