Emmerdale love cheat Robert Sugden confesses to Aaron Dingle!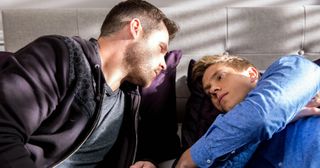 Robert decides it is time to tell Aaron the truth about his dalliance with Rebecca White, explains actor Ryan Hawley…
Aaron and Robert are back in Emmerdale village and while one looks pretty relaxed, the other is like a rabbit in the headlights, terrified that his dirty secret is going to come out. Ross Barton is blackmailing Robert and realising that Aaron is going to find out that he fathered Rebecca's child sooner or later, he decides to bite the bullet and tell the truth.
"He knows that if he really cares about Aaron, he has to be honest," actor Ryan Hawley tells Soaplife.
Is Robert afraid Aaron will leave him when he knows the truth? "He thinks it should be up to Aaron to decide whether or not he wants to be with him, once he knows the truth. It is time for Robert to face the consequences of his actions."
How does Robert break the news? "There is this moment when they are being intimate in their new flat and it just kind of boils out. Robert is quite emotional and says 'I need to tell you something'. He explains what he did and they two of them have a long argument."
Does he try to justify his actions? "He does try and explain to Aaron why he did it and there is some kind of empathy that Aaron has towards him. It is all played out over a double episode."
Robron fans will be desperate for them to stay together... "It is incredible the support that they get and even though I am not on social media, I know that people get very angry about Robert and Aaron. I hear it from the other cast members and such."
How does Robert feel about the way he's treated Rebecca? "He loves Aaron and really regrets what happened to Rebecca. It's damage limitation really. He slept with her in a moment where he was at rock bottom and thought it was finished with Aaron. Robert is like that – he can be unhinged sometimes. There is nothing he can do now, other than try and rescue his relationship."
Would you like to see him become a dad? "It would certainly affect the relationship between Robert and Aaron. I enjoy everything that they write for us."
We hear there is going to be a second wedding – where would you like it to take place? "They talked about Vegas at one point, but as Aaron has got a criminal record, they won't get into America. Somewhere a little less strict would be better."
Get the latest updates, reviews and unmissable series to watch and more!
Thank you for signing up to Whattowatch. You will receive a verification email shortly.
There was a problem. Please refresh the page and try again.