'Megan's baby brings her closer to Sam!' reveals Emmerdale's Gaynor Faye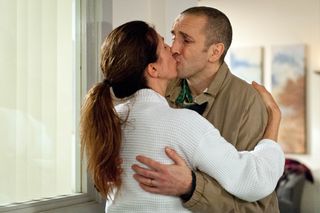 There's big drama in Emmerdale when Megan gives birth… then kisses Sam! Megan actress Gaynor Faye tells all to Soaplife
How does Megan come to be in the woods when she goes into labour?
"She's looking for Sam [James Hooton]. They were on the way to the hospital for her scan but she gets him to pull over to have a conversation about his feelings for her. Jai [Chris Bisson] will be at the hospital and she doesn't want things to get messy."
What does she tell Sam?
"She loves him as a friend and he's really been there for her but she realises she needs to put the brakes on. Sam takes it the wrong way and goes storming off into the woods and she goes after him."
She's over eight months pregnant… Is that wise?
"No. She's had twinges all day and she starts having contractions while she's on her own in the woods."
Is she scared?
"She's absolutely petrified. She shouts for Sam for ages and by the time he does eventually appear, Megan's in a lot of pain. She's immobile so Sam goes to get help."
But he doesn't come back… Why?
"Unfortunately, Zak [Steve Halliwell] and Joanie [Denise Black] are in the woods poaching and Sam accidentally gets shot! Megan's left on her own. It goes from day to night and the contractions get stronger."
Does she actually give birth in the woods?
"Nearly but no… Jai comes looking for her and when he finds her, he tells her firmly she's not having the baby there and he drives her to the hospital."
How is the birth? Is the baby okay?
"It is not straightforward…"
And how on earth does she end up kissing Sam afterwards?
"Her head's messed up and she has this moment of weakness. It goes from an affectionate hug into a kiss before Megan quickly pulls away."
What sort of mum will she be?
"She's going to pick herself up and get her mojo back. She wasn't there for her son Robbie but she's determined to do everything she possibly can for her baby."
Watch this story in Emmerdale on ITV at 7.00pm and 8.00pm on Thursday 3 March
Get the latest updates, reviews and unmissable series to watch and more!
Thank you for signing up to Whattowatch. You will receive a verification email shortly.
There was a problem. Please refresh the page and try again.