'My role with a children's hospice is very uplifting,' says Emmerdale's Jeff Hordley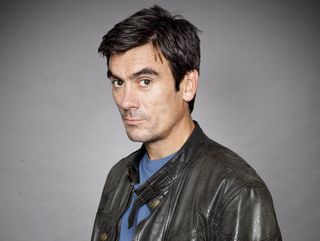 Emmerdale star Jeff Hordley, who plays Cain Dingle, talks to Soaplife about his new role as patron of a children's hospice…
How did you get involved with Martin House Hospice?
"They asked myself and my wife, Zoe Henry [Emmerdale's Rhona], to be patrons and we were thrilled. It's not funded by the government, so they have to raise most of the money themselves."
Have you visited the hospice a lot?
"We have and it's an amazing place. It's literally round the corner from us, so it's easy to pop in. As much as there might be very difficult and emotional situations going on, it's very uplifting. It's not downbeat at all."
Do the kids ask you about Emmerdale?
"Yes, they do. But it's not just the kids we chat to. We see their brothers and sisters, and mums and dads, too."
Does meeting the kids affect you emotionally?
"I'm a dad and, of course, I empathise with the kids and their families. I look at my own kids - Violet, 10 and Stanley, seven - and I feel fortunate they're safe and well."
You've run marathons for charity before… Will you run one for Martin House?
"I'm not doing so much running because I've had a bad back, but I've been doing Pilates, which has really helped. I'm not doing any sporting events for Martin House at the moment, but I'm sure there'll be something the future."
Are you still enjoying Emmerdale?
"Very much so. The longer I'm there, the better it gets. I'm very happy with my lot. I can't complain."
Emmerdale, ITV.
Get the What to Watch Newsletter
The latest updates, reviews and unmissable series to watch and more!