New lesbian couple to move into Emmerdale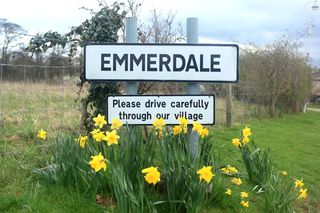 A new lesbian couple are set to move into Emmerdale in the autumn. Ali Spencer, Rachel Breckle's younger sister, arrives in the village with Ruby Haswell hoping to start a new life together after leaving her husband for her new lover. Ali will be played by Shameless's Kelli Hollis and Ruby will be played by Bad Girls star Alicya Eyo, Emmerdale's official website reveals. Kelli said: "As a Leeds girl myself, getting a role as a new regular character for Emmerdale in my home town is a dream come true. I'm really excited to be playing Ali." Alicya added: "I'm over the moon and can't wait to get started. Being part of a show that I've grown up watching is amazing and Ruby is going to be a lot of fun to play." Ali will arrive in the village from her Hotten estate home in October with Ruby and her two kids Sean and Amelia, played by 14-year-old Luke Roskell and seven-year-old Daisy Campbell. But it is not known how Ruby will cope with becoming part of a family. Emmerdale series producer Stuart Blackburn said: "Ali and Ruby are down to earth, gritty, funny and likeable and after leaving her husband of 15 years, Ali has a lot riding on making her new life in Emmerdale work." Alicya made her name playing violent, drug-using inmate Denny Blood in hit ITV show Bad Girls, who had a relationship with Debra Stephenson's notorious character Shell Dockley.
Get the latest updates, reviews and unmissable series to watch and more!
Thank you for signing up to Whattowatch. You will receive a verification email shortly.
There was a problem. Please refresh the page and try again.