'Rebecca had an affair with Robert!' reveals Emmerdale newcomer Emily Head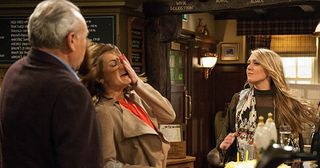 (Image credit: Andrew Boyce)
Chrissie lashes out when she hears that Robert cheated on her with Rebecca… But Rebecca hits back hard, Emmerdale's Emily Head explains to Soaplife
Rebecca is keen to make her mark in Emmerdale – and she'll take on her not-so-devoted sister Chrissie to get what she wants! Emily Head reveals all to Soaplife...
Why has Rebecca come to the village? "She got a phone call from Robert [Ryan Hawley]. He told her Chrissie isn't Lawrence's biological child and so now her main goal is to find out where she stands in the family. She is hurt that Chrissie didn't tell her. She wants to form a strong bond with Lawrence. But she's worried that he isn't her biological father, either."
But the DNA tests prove he is, don't they? "Yes. Chrissie's jealous but Rebecca decides she wants to stick around in Emmerdale. She's worried because Lawrence's will was changed when Lawrence [John Bowe] was injured and she isn't sure where Chrissie's loyalties lie. She worries it's all about money for Chrissie and she wants to stake her claim."
How does she feel when Lawrence makes her co-manager of Home Farm? "She's delighted. It's something she's been gunning for. It annoys Chrissie, though, because Rebecca's got this job without any of the hard work she's put into it."
What happened between Robert and Rebecca? "Rebecca had a relationship with Robert while he was with Chrissie, which isn't ideal sister behaviour. Robert can be very charming when he knows what he wants."
What does Rebecca make of Robert's relationship with Aaron (Danny Miller)? "She finds it difficult to get her head around it because she hasn't seen that from Robert before."
How does Chrissie react when she finds this out from Lachlan (Thomas Atkinson)? "Chrissie and Rebecca have a big fight. There were no injuries in real life, but it looks very impressive. Louise [Marwood, who plays Chrissie] and I found it very funny in rehearsals."
Emmerdale, ITV
Get the latest updates, reviews and unmissable series to watch and more!
Thank you for signing up to Whattowatch. You will receive a verification email shortly.
There was a problem. Please refresh the page and try again.