'Ross might not still be in Emmerdale when Debbie gets back,' says Michael Parr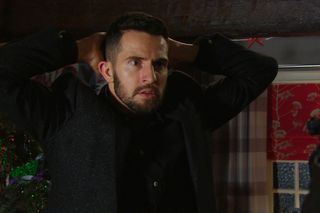 It was bad enough when, for a minute earlier this year, it looked like Ross Barton (Michael Parr (opens in new tab)) had been killed by his jealous brother, Pete (Anthony Quinn), who found out about his affair with his wife, Debbie Dingle.
But Ross lived to play the bad lad again - and again and again… And he got the girl.
This week the police come looking for Ross again and Debbie is stunned when she finds out what he's done… It's the final straw for her and she leaves the village on New Year's Day (opens in new tab).
We know Debbie's exit is temporary - a maternity leave for actress Charley Webb (opens in new tab), who is having her second child with co-star Matthew Wolfenden (opens in new tab) (who plays David Metcalfe).
But Michael has hinted he might not be around when Charley returns.
"Ross's world crumbles when Debbie leaves," says Michael in The Mirror. "And, personally, it was really said to see Charley go because I might not be here when she gets back. I'm going to miss Charley. We have a lot of fun when we work together. We have such a laugh.
"But we might have already filmed our last scenes together.
"Hopefully, I won't have filmed my last Christmas with Emmerdale. I trust the writers."
Emmerdale (opens in new tab), ITV.
Thank you for signing up to Whattowatch. You will receive a verification email shortly.
There was a problem. Please refresh the page and try again.