Ross takes his revenge! Will he kill Pete in Emmerdale?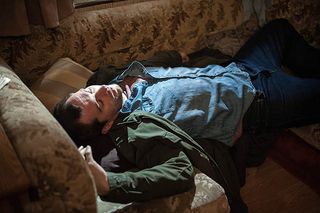 After being beaten-up and left for dead in a shallow grave by his big brother, Pete, last month, Ross has returned to (opens in new tab)Emmerdale village for revenge!
As Pete sinks deeper into depression over his failed marriage to Debbie, cunning Ross decides to take advantage of his brother's fragile emotional state. Ross fakes concern and takes Pete out to The Woolpack to drown his sorrows. But Ross's sinister intentions are later revealed...
When Pete passes out drunk back in his caravan later that night, Ross reveals a faked suicide note and gun in his rucksack. As Ross starts to stage the scene, will he really go ahead and kill his own brother?
Meanwhile, Debbie is still worried about her daughter, Sarah's health and takes her daughter to the doctors to find out more. The doctor decides they should do some blood tests to find out what's wrong with Sarah.
But Debbie's not happy when she discovers her estranged hubby, Pete's mum Emma is the nurse on duty. There's no love lost between Emma and her daughter-in-law. Emma still blames Debbie for the fallout from her affair with Ross, which turned Ross and Pete against each other.
Emma arrives to carry out Sarah's blood tests. But Debbie's not comfortable leaving Sarah in Emma's care, given Emma troubled past. So it's not long before things turn ugly again between the two women.
Emma doesn't take kindly to people who mess with her family. So when the two women bump into each other at The Woolpack later, you could cut the atmosphere with a knife!
As Debbie gives Emma a dose of Dingle attitude, Emma is already plotting payback. But what's she going to do? Perhaps it's better not to mess with Emma. After all, this is the woman who once almost left husband, James, to die after an 'accident' at Butler's Farm!
With Debbie and Pete's short-lived marriage on the rocks, Ross visits Debbie and makes it clear he wants to reignite their affair. Will Debbie be able to resist the bad boy's carms when he makes a move on her?
After the explosive fallout from their affair, which led to a violent wedding day showdown between Pete and Ross, will Debbie tempt fate and end up back in bed with Ross?
And with Ross still armed with a gun and out to get Pete, will Ross's plan to get even with his hated brother go a step too far? Find out what happens in Emmerdale from Monday, September 14 on ITV.
Get the What to Watch Newsletter
The latest updates, reviews and unmissable series to watch and more!