Emmerdale star Ryan Hawley: Being dad to baby Seb has changed Robert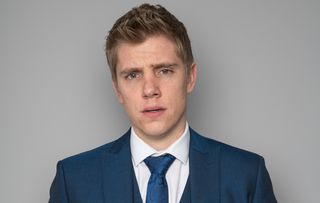 As the scheming Sugden owns up to his lies next week, actor Ryan reveals his character's change of heart is all down to baby Seb...
When it looks like Robert has snatched baby Seb next week, a worried Rebecca assumes her ex is responsible, and tells sister Chrissie and dad Lawrence about his plot to take control of Home Farm. But rather than try to wriggle out of it, Robert holds his hands up and owns up to his dastardly deeds.
Emmerdale star Ryan Hawley talks about his character's sudden u-turn, and why life for Robert is now all about being a good dad...
TVT: When Robert confesses to what he has done, is this because he can't find an excuse to explain his behaviour, or because he genuinely wants to be honest?
Ryan Hawley: "He accepts, reluctantly, that he can't carry on being dishonest and deceiving people without it ending in tragedy and unhappiness. So he realises he needs to break the cycle of behaviour, and confess to the things he has done. When it's all exposed, it's more about how the Whites will react, because it's a complicated situation - not only is there the misleading of Lawrence, but the fact that he's the father of his grandson and his eldest daughter's ex husband."
TVT: Is Robert's newfound honesty all down to him being a father?
RH: "Yes, and he explicitly states that. The baby has been born and it has changed his view on his life. He needs to be more responsible and he's got someone else to look out for now, rather than just himself."
TVT: Robert has stooped pretty low over the last few months – which bit of his scheming did you find the most shocking?
RH: "Well, it's a pretty long list, isn't it! For me, what I find interesting is the desperation of the character. That's fun to play as an actor, and dramatically, it's quite shocking to see the lengths he will go to, to get what he wants. And it's fun for audiences, that sense of jeopardy you get from seeing a character being constantly on edge and having everything to lose."
TVT: Did you know how bad Robert was going to be when he first joined the soap?
RH: "I remember the character breakdown was sent to me on an email and there were three words written to describe him – and one of them was 'ruthless'. I can't remember what the other two were, but that word has always stuck with me. So yes, from the outset, I knew he was going to be scheming."
TVT: Have you ever met anyone like him?
RH: "There are certainly people I've met with characteristics akin to Robert, although they wouldn't necessarily do the things he's done - this is television and things happen that we wouldn't necessarily experience in normal life. But the thing I like about Robert is that he's also involved with storylines where he is empathetic and involved in things that do reflect normal life and I enjoy that - it's less dimensional if characters are just bad. The Robert and Aaron supporters are really keen for that; I think they miss that."
TVT: Now that Robert no longer has his eye on Home Farm, what is his new life goal?
RH: "I think everything is about looking after his son, and making sure he doesn't turn out like him. I think he'll make a good dad, because you've seen the lengths he will go to, to protect his own interests. So when it comes to his own son, I think there's nothing he wouldn't do."
TVT: Emmerdale boss Iain MacLeod has revealed that the show's Christmas Day episode will be almost entirely dedicated to "Robron." Have you filmed that yet?
RH: "We have! It's a very different kind of episode, although it's still set within Emmerdale. I just hope people enjoy it. It's certainly Christmassy!"
TVT: Iain has also revealed that the "Robron" wedding will take place next Summer. Do you have any thoughts on what their wedding should be like?
RH: "I'm just keen to see how the writers write it and what they make of it. Weddings and funerals generally take a long time to film, but I'm sure it'll be great."
Alison Slade
Get the What to Watch Newsletter
The latest updates, reviews and unmissable series to watch and more!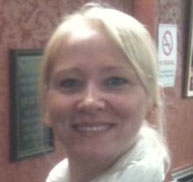 Alison Slade has over 20 years of experience as a TV journalist and has spent the vast majority of that time as Soap Editor of TV Times magazine.
She is passionate about the ability of soaps to change the world by presenting important, issue-based stories about real people in a relatable way.
There are few soap actors that she hasn't interviewed over the years, and her expertise in the genre means she has been called upon as a judge numerous times for The British Soap Awards and the BAFTA TV Awards.
When she is not writing about soaps, watching soaps, or interviewing people who are in soaps, she loves going to the theatre, taking a long walk or pottering about at home, obsessing over Farrow and Ball paint.