'Setting up a fake witness for Aaron has big risks,' warns Emmerdale's Ryan Hawley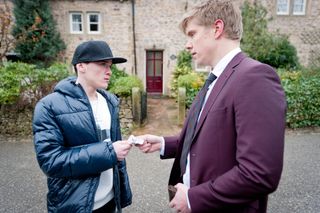 Paying a fake witness to testify against Aaron's dad Gordon is Robert's idea of helping the one he loves. But it could mean Gordon will never pay for abusing his son.
(opens in new tab)Emmerdale's Ryan Hawley reveals all to Soaplife...
Why did Robert pay a fake witness to say Gordon abused him?

"People are starting to doubt Aaron's story that Gordon abused him. Robert knows Aaron [Danny Miller] is telling the truth and really wants to see Gordon [Gary Mavers] punished for what he did."
What makes Robert come clean to Chas (Lucy Pargeter)?
"Gordon thinks it was Chas who set up the fake witness and attacks her, so Robert has to tell her that he paid Gordon's neighbour Ryan [Britain's Got Talent star George Sampson] to make false allegations."
Does she go along with it?
"She's really upset and angry and takes a bit of convincing, but Robert explains they're all doing this for Aaron's benefit."
He must be relieved when the police say they will now charge Gordon?
"Yes. Setting up a fake witness has risks and Robert could be punished for perverting the course of justice, so it's a massive relief everything's going to plan."
...Until the witness Ryan turns up in the village. What does he want?
"Ryan's in a panic and says he can't go through with it. Robert twists, manipulates, bribes and does everything he can to stop him backing out."
But Aaron sees them together… Does Robert admit what he's done?
"Yes. Eventually he has to."
Isn't Robert worried that it could ruin the case if the fake witness is found out?
"Robert's only doing this because he wants justice for Aaron. He believes this is the best way to make people sit up and listen."
Will Aaron and Robert get back together?
"We're seeing a different side to Robert. He's facing the fact he loves Aaron and has admitted that. But at the moment the relationship is very much about Robert being there for Aaron, and supporting him."
Watch this continuing story in Emmerdale from Monday 29 February on ITV at 7.00pm
Get the latest updates, reviews and unmissable series to watch and more!
Thank you for signing up to Whattowatch. You will receive a verification email shortly.
There was a problem. Please refresh the page and try again.