'What Robert's done to Lawrence would drive him to murder,' says Emmerdale's John Bowe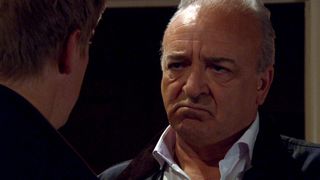 Lawrence White says he shot Robert. But did he, or does he only confess to save daughter Chrissie, who has been arrested for the crime? Emmerdale's John Bowe (opens in new tab) talks to Soaplife about the big 'whodunit'...
How did Lawrence feel about Robert getting shot?
"In one respect, he was very happy that he finally got his comeuppance, but he's also very worried as one of his family could have done it – that man has perpetrated a lot of evil upon them."
Could Lawrence have shot Robert?
"Yes. There's some stuff coming up where viewers will understand more about what happened to him in the Sixties [in prison, for being gay]. After what he went through, he has a very thin skin and, if you push enough, he could totally lose it."
Pollard makes a statement that incriminates Chrissie (Louise Marwood (opens in new tab)), though…
"Lawrence is a very persuasive man, who knows how to deal with people, and thinks he can make Pollard [Chris Chittell (opens in new tab)] change his statement."
Bernice dumps him after his 'confession'. Can he persuade her to change her mind, too?
"He's devastated by that. Lawrence absolutely adores Bernice [Samantha Giles (opens in new tab)]. She makes him laugh and he wants to be around her. She's a great companion, who reminds him of his wife. Now, that has been ruined, thanks to Robert."
Does Lawrence want Robert to live?
"His goodness and sense of fair play might make him think that Robert has some redeeming qualities. Let's hope the writers can find some, or else Ryan [Hawley (opens in new tab), who plays him] is in a cul-de-sac."
Why didn't Lawrence sense Robert was trouble?
"I can't tell you the number of people who have come up to me in the street to say: 'Can't you see what Robert is doing?'. Obviously, the writers have made it so that Lawrence could not see those things. He gave him so much time. He nurtured Robert and even gave him is own daughter. What he has done to Lawrence is enough to drive anybody to murder."
What was it like filming the actual shooting scene?
"It was a night shoot and I hate them. I get nosebleeds, headaches and suffer jetlag for days afterwards. We finished at 6am and then I had to get back to my newly acquired house as the removal men were arriving – I wasn't the best customer they have ever come across that morning."
Emmerdale (opens in new tab), ITV
Get the latest updates, reviews and unmissable series to watch and more!
Thank you for signing up to Whattowatch. You will receive a verification email shortly.
There was a problem. Please refresh the page and try again.