Will Lachlan White kill again in Emmerdale? Thomas Atkinson's not ruling it out!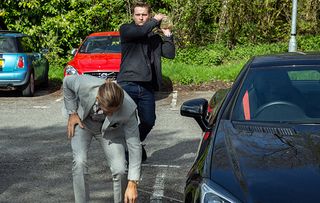 Emmerdale star Thomas Atkinson says Lachlan White will do anything to keep Belle Dingle at his side… including killing Freddy?
As toxic boyfriends go, Lachlan White is right up there. He's already killed three people – mum Chrissie, granddad Lawrence and friend Gerry – whose life is in danger next?
What's the story?
Lachlan gets that murderous glint in his eye when girlfriend Belle Dingle announces she is off to London to forge a new career. "He can't bear the thought of losing Belle," actor Thomas Atkinson tells Soaplife. Is Lachlan about to kill again?
What's happening Emmerdale? See the latest soap storylines
Emmerdale actor Thomas Atkinson's interview with Soaplife about Lachlan White's fear of losing Belle Dingle…
Soaplife: Is Lachlan worried he'll be caught for Gerry's murder?
Thomas Atkinson: "He is because somebody is sending him anonymous texts saying stuff like 'I know what you've done'. He is desperately trying to figure out who it is. It's actually Liv Flaherty – she thinks he is behind a robbery at the B&B."
S: Does he feel any guilt for the murders he has committed?
TA: "Gerry was his friend and he loved his mum and his granddad. He didn't want to kill any of them; it was a spur of the moment thing. I don't know how you can just settle down and get on with life after you've killed three people, but Lachlan thinks he can."
S: Would he kill Belle?
TA: "Lachlan has pretty much lost everything. He said to Gerry 'You are like a brother to me' and now he's gone, too. All he has left is Belle and he wants a future with her, so I think it's unlikely that he will try and murder her."
S: What happens with this new investor?
TA: "Belle tries to get this guy Freddy to invest in Whingles. He agrees, but asks Belle to work at his head office in London for a year. She suggests that Lachlan comes too, but Freddy doesn't like that idea."
S: How does Lachlan feel about this?
TA: "Belle is all he's got so obviously, he doesn't want her to go. The problem is, she's excited about this new start."
S: Will Lachlan kill again?
TA: "I think he's pretty dangerous. He certainly has the potential to do it again."
S: Do you think he will ever get his comeuppance?
TA: "Everybody knows that soap characters who kill people get their comeuppance eventually. I don't think the audience would be very happy if he didn't."
Emmerdale continues on ITV.
Get the latest updates, reviews and unmissable series to watch and more!
Thank you for signing up to Whattowatch. You will receive a verification email shortly.
There was a problem. Please refresh the page and try again.