James tries to escape a deranged Emma in Emmerdale!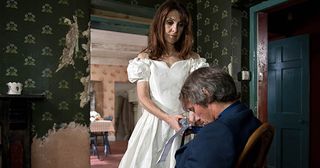 (Image credit: Andrew Boyce)
The farmer fears for his life as his wife-to-be Emma keeps him captive. The story is part of Emmerdale's epic week which leads to the death of a villager
Ever since discovering James's recent kiss with Moira, a raging Emma has been keeping her hubby-to-be prisoner in his own home in Emmerdale.
The deranged nurse has drugged her fiance with morphine, smashed his mobile phone to smithereens and stopped him calling for an ambulance despite the fact he's nursing a broken leg and is in increasing agony.
Events escalate as a terrified James realises just how far Emma, who he's supposed to be marrying, is prepared to go as revenge for his betrayal. Will he get out of his own home alive?...
Emma puts on her wedding dress while James is tied to a chair!
What is Emma planning to do?
James feels woozy after being drugged.
He's been in excrutiating pain after breaking his leg which has been left untreated.
Earlier on James has found his wedding vows and scrawled, 'I DO NOT' in big letters across the page.
After hearing a lorry pull up outside the farm with a chicken delivery, he's made a desperate bid to escape and call for help.
But it's too late. Emma is one step ahead of him and keeps him prisoner in the house as she returns brandishing a dead chicken and a knife!
Is the deranged nurse planning to murder her husband-to-be? If she can't have him then no one can! Watch Emmerdale's epic week, in which at least one villager dies, on ITV from Monday, October 17.
Get the latest updates, reviews and unmissable series to watch and more!
Thank you for signing up to Whattowatch. You will receive a verification email shortly.
There was a problem. Please refresh the page and try again.