Jimmy reveals Rakesh's burning secret in Emmerdale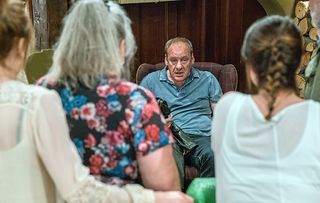 A drunken Jimmy reveals it was the lawyer who committed the arson attack on The Mill....
Now the staff at the factory know about Nicola's phobia in Emmerdale, the pranks are coming thick and fast but one particular joke goes too far and a furious Nicola starts slating Jai unaware he can hear her.
Jai's livid about Nicola's outburst and promptly fires her on the spot! Nicola tries to blackmail her boss into giving her her job back, but when he stands firm, she storms off home and takes out her anger on Jimmy.
Her long-suffering other half isn't going to stick around to get an earful and heads off to the pub where he proceeds to get increasingly sloshed and in a moment of drunken indiscretion, starts blabbing to all and sundry that it was Rakesh who started the Mill fire that left Nicola semi-paralysed.
The shocked villagers encourage him to call the police and report the arsonist immediately, which drunk Jimmy duly does before consulting Nicola.
Soon the ball is rolling when the police suddenly show up at the factory to grill Rakesh, much to the shock of his family and colleagues.
How will slippery former lawyer Rakesh manage to get out of this? And will Priya continue to protect her criminal hubby?
A drunken Jimmy becomes loose-lipped sparking a dramatic chain of events....
A drunken Jimmy becomes loose-lipped sparking a dramatic chain of events....
Earlier, Nicola is fuming when she becomes a victim of pranking at the factory.
She blames Jai, but when he overhears her bad-mouthing him, he's livid and tells her she's fired!
Nicola storms off home but when she starts laying into Jimmy, he takes refuge in The Woolpack where he proceeds to get increasingly drunk!
As the beer flows, a loose-lipped Jimmy blabs to Lisa, Zak and Kerry that it was Rakesh who started the fire at The Mill. Everyone insists he go straight to the police to report the arsonist.
Rakesh is caught completely unaware when the cops pay a visit to the factory.
How can the shifty former lawyer defend himself and wriggle out of this one?
Will Priya continue to stand by her man and lie to protect her husband, or is Rakesh finally going to get the punishment he deserves? Watch Emmerdale on ITV from Monday, June 5
Get the latest updates, reviews and unmissable series to watch and more!
Thank you for signing up to Whattowatch. You will receive a verification email shortly.
There was a problem. Please refresh the page and try again.