Overdose? Pete finds Ross unconscious in Emmerdale…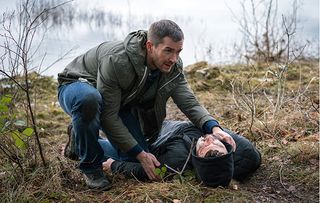 (Image credit: Andrew Boyce)
Pete finds Ross unconscious having taken a cocktail of booze and pills
A terrible week pushes Ross to the edge, leaving him fighting for his life. A series of knocks destroys the last remaining shreds of Ross' confidence, which has been shattered by the acid attack. Pete panics when his brother disappears. Ross is found - but he's unconscious and has washed down loads of pills with a bottle of booze…
It's the final straw for the Metcalfe's marriage as Tracy finds out about David's betrayal with Leyla...
Pete finds his troubled brother Ross unconscious and calls an ambulance…
At Butler's, Ross attempts to show a prospective buyer round the farm, on Moira's instruction.
Pete is chuffed when Ross agrees to come to the pub.
For the first time since the acid attack, former ladies' man Ross gets chatting to a girl.
But the exchange leaves Ross humiliated…
Pete is concerned when Ross later goes missing.
He finds empty booze and pill bottles in his car.
Pete then finds Ross…
… he's conscious. Can Pete save Ross' life?
David has taken in his homeless ex, Priya.
Tracy reckons David has been sleeping with Priya.
As a confrontation kicks off, David's betrayal with Leyla tumbles out leaving Tracy devastated.
News of David and Tracy's split reaches Jacob and Pollard. Is the Metcalfe marriage broken beyond repair? Watch Emmerdale on ITV from Monday 26 March.
Get the latest updates, reviews and unmissable series to watch and more!
Thank you for signing up to Whattowatch. You will receive a verification email shortly.
There was a problem. Please refresh the page and try again.