Pierce fights dirty for his freedom as rape trial begins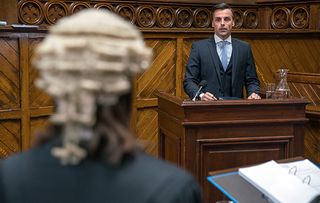 Guilty Pierce is in court, accused of raping Rhona. But with the manipulative lawyer out to skew the story, will he fool the judge and jury into thinking he's innocent?
The Pierce Harris rape trial begins in Emmerdale in the coming week and the loathsome lawyer looks like may be about to slip the net.
The prosecution case founders when Pierce and his lawyers make it seem that Rhona has had an ongoing relationship with her ex, Paddy, but it really hits the rocks when Rhona's bestie Vanessa lies to the court and is ripped apart by the defence!
Will Pierce escape scot-free or will justice be served?
Guilty Pierce takes to the stand, accused of raping Rhona, but he's out to deny it…
Guilty Pierce takes to the stand, accused of raping Rhona, but he's out to deny it…
Shaky Rhona tells the tale of the awful ordeal during which Pierce raped her on their wedding day.
But the clever, manipulative Pierce plays the injured victim.
Pierce's number one enemy, Vanessa, takes to the stand…
… but the vet's lies, intended to help Rhona's case, end up harming it.
Vanessa is crucified on the stand.
Rhona's case appears to be crumbling as Vanessa's fabrications fall apart.
Being a lawyer, Pierce knows how to work the courtroom.
He skews the story, completely rewriting the history of his relationship with Rhona.
But when Rhona has a moment with him during a recess, she forces a confession out of him. Will he recant his lies and admit to the court he did it? Watch Emmerdale on ITV from Monday, July 24
Get the latest updates, reviews and unmissable series to watch and more!
Thank you for signing up to Whattowatch. You will receive a verification email shortly.
There was a problem. Please refresh the page and try again.