Pierce is furious that Rhona's gone to Hunk Night!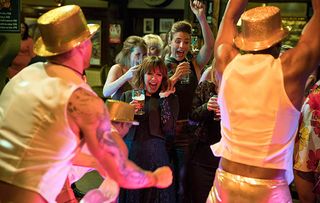 Not everyone's happy when a group of male strippers descend on The Woolpack! Pierce and Carly, in particular, are down in the mouth...
Charity plans some money-making fun to pack in the punters and organises a special Hunk Night in the Woolpack in Emmerdale. But not everyone is happy about it...
Things get off to a flying start and everyone is having a great time, but as the booze flows events get increasingly raucous.
Insecure lawyer Pierce is simmering with jealousy when he catches Rhona enjoying the attentions of the male strippers just a little too much.
Whoo hoo…it's Hunk Night in The Woolpack. Time for some muscley fun!
Whoo hoo…it's Hunk Night in The Woolpack. Time for some muscley fun!
But Pierce is already rattled that Rhona has even gone to the event.
The controlling lawyer keeps trying to phone her but she's ignoring her mobile. When he turns up at the pub, he's livid to to see her enjoying the raunchy attentions of one of the male strippers!
Is Pierce going to make Rhona regret ever going?
Meanwhile , someone else who might regret turning up is Carly...
She's mortified when her dad Bob decides he's going to get in on the stripping!
As a merry Bob starts flaunting his middle-aged pecs, Carly wishes the ground would swallow her up. Is anyone else going to go a little too far at Hunks Night? Watch Emmerdale on ITV from Monday, January 9.
Get the What to Watch Newsletter
The latest updates, reviews and unmissable series to watch and more!