Pierce proposes to Rhona in Emmerdale!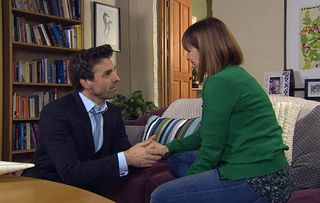 Guilty Rhona urges Pierce to pop the question again after sharing a secret kiss with her ex, Paddy
Emmerdale's Rhona Kirk is gutted when her official divorce papers come through. But with new man Pierce Harris nowhere to be found, she finds herself commiserating with her now ex-husband Paddy! As the drinks flow in the Woolpack, elsewhere, Pierce is having a traumatic day of his own as it's the anniversary of his late wife Tess' death. Unaware of what Pierce is going through, and angry at him for disappearing on her, Rhona gets plastered and ends up sharing a lingering kiss with Paddy!
Riddled with guilt about the kiss, and after finding out where and why Pierce went AWOL, Rhona feels terrible. To ease the tension between her and Pierce she comes up with a plan and urges her man to propose to her. Pierce doesn't hang about and pops the question. After Rhona accepts, Vanessa wonders why her friend is in such a hurry to get hitched again. Will Rhona tell anyone about her moment with Paddy?
But Pierce has no idea Rhona earlier went and got drunk with her ex-husband, Paddy…
…nor does Pierce realise that Rhona and Paddy's booze up to 'celebrate' their divorce, ended in a lingering kiss!
After a huge row with Pierce, Rhona comes up with an idea to appease her man.
Guilty Rhona urges Pierce to try proposing to her again…
Their row about Pierce's late wife Tess is soon forgotten when Rhona accepts Pierce's hand in marriage!
When Vanessa hears about the engagement, she asks Rhona why she's in such a hurry to get hitched.
Rhona and co celebrate the engagement, unaware new fiance Pierce has heard every word of their conversation and her words of warning… Watch Emmerdale on ITV from Monday 13 February
Get the latest updates, reviews and unmissable series to watch and more!
Thank you for signing up to Whattowatch. You will receive a verification email shortly.
There was a problem. Please refresh the page and try again.