Ross turns up at Home Farm armed with a gun and ready for revenge!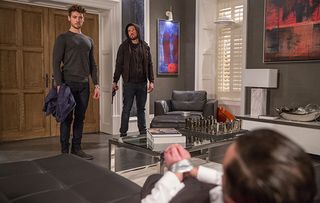 When Ross discovers that someone paid Simon money to keep quiet in court he's on the warpath and is armed and dangerous!
Ross is on the rampage and hungry for revenge when he discovers that drug-dealer Simon was paid by someone to keep his mouth shut in court.
Still smarting from the fact the acid attack case was dropped and justice hasn't been served, the furious Barton is convinced that Joe Tate is caught up in the whole affair.
He storms off to Home Farm, armed with a gun and intent on getting the truth but as the two men come face to face, events spiral horrendously out of control and someone is caught in the crossfire.
Elsewhere Bob and Laurel are rattled when they see plumes of smoke coming from near the pirate ship and think Brenda has committed arson as payback for their affair. Did Brenda start the blaze or is there another guilty culprit?
There's carnage when a vengeful Ross and Joe come face to face at Home Farm
There's carnage when a vengeful Ross and Joe come face to face at Home Farm
Earlier on, and with Simon still AWOL, angry Ross tracks down Connor, Simon's drug-dealing mate
Ross wants to know what's happened to scarpering Simon who has been missing ever since the acid attack court case collapsed
But when Connor refuses to play ball, the situation quickly escalates and hot-headed Ross lashes out
He punches Connor in the face as an alarmed Dawn watches on
Connor is reeling as he suffers a hefty blow to his face
However Connor quickly draws Ross into his drug-dealing world and makes him and offer
Ross has a load of Connor's drugs in his car. Meanwhile Debbie is appalled to realise that badboy Ross is being sucked into a murky drug-dealing world.
Debbie tries to reason with Ross but there's panic when he realises, while they've been talking, his car has been stolen with the drugs stash in it! A raging Connor tells Debbie she either tracks down the car pronto or she'll be paying for the stolen stash
Meanwhile Jacob, Leanna and Gabby have missed the school bus and worry about how they will get there until Leanna has a cunning idea. Are they about to find themselves caught up in a whole heap of trouble?
Bob is trying to keep things civil with Brenda when he asks her if he can pick up the rest of his belongings. Brenda seems to be taking it in her stride but is she secretly cooking up her next revenge plan?
Elsewhere when Ross finds out that Simon was paid to keep his mouth shut during the court case he is sure Joe Tate was behind the bribe
An apoplectic Ross storms up to Home Farm armed and dangerous. Joe is horrified to walk in and find Graham bound up but there's worse to come when the gun goes off. Who has been shot and who has found themselves in the crossfire? Watch all the drama unfold in Emmerdale on ITV from Monday 21 May
Get the What to Watch Newsletter
The latest updates, reviews and unmissable series to watch and more!