Sam aims a shotgun at Ronnie in Emmerdale!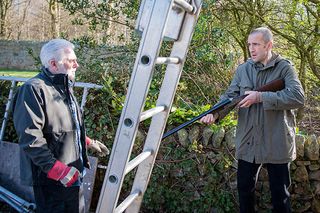 (Image credit: Andrew Boyce)
When Lawrence tells Sam he wants shot of Ronnie for good, will Sam really pull the trigger?
Lawrence wants Ronnie out of his life for good and gets Sam to do his dirty work!
Earlier, Lawrence is rattled when Ronnie shows up again at Home Farm
When Ronnie leaves, Lawrence is shaken and determined to get him out of his life once and for all...
Having previously sacked Sam for crashing a quad-bike, he tells him he can have his old job back on one condition: he gets rid of Ronnie... permanently!
Sam's in a dither but reluctantly goes to find Ronnie, who's been employed by Rakesh to renovate the Mill...
Ronnie's more than a little alarmed to see Sam turn up armed with a shotgun!
Will Ronnie be able to talk Sam around or is he set on obeying his master's orders?
EMMERE28093WEEK21E28093SAME28093DINGLEE28093RONNIEE28093HARRIS05
Will Ronnie live to see another day? Watch the drama on Emmerdale, ITV, from Monday, May 23
Get the What to Watch Newsletter
The latest updates, reviews and unmissable series to watch and more!