Andy and Janet go to war!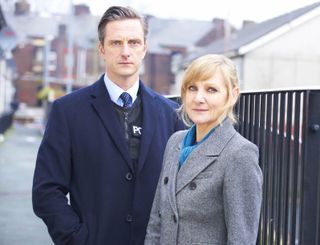 Sean has another surprise up his sleeve for Rachel - he's seen her mum, who he says would love to see Rachel. But Rachel's spent years trying not to think about her mum, who abandoned her when she was 12, so she doesn't think much of Sean's idea. But when he begins to show Rachel old family photos, she starts to wonder whether being a mother of three at her age might be a tougher task than she's ever imagined. When Leon Foster turns up dead, with a bullet hole in his head, it looks at first like a typical gang killing. But when it transpires he's been sexually mutilated, the team think his killer could be female. As Janet and Rachel investigate, they're shocked by what some girls consider to be normal behaviour... Unable to accept that Janet has called a halt to their affair, Andy punishes her by trying to shut her out of the investigation. But when Janet goes out to meet a witness, Andy is livid and, when she returns, the pair have a huge row in front of the entire office. Gill tells Andy he has a duty to tell Janet why the situation has got so bad.
Get the latest updates, reviews and unmissable series to watch and more!
Thank you for signing up to Whattowatch. You will receive a verification email shortly.
There was a problem. Please refresh the page and try again.