Barry and Sian come to blows...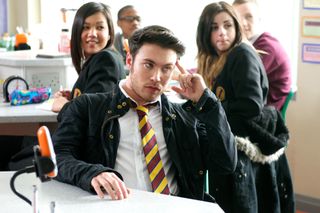 (Image credit: BBC/Shed Productions (WR) Ltd/Toby Merritt)
After Kacey admitted her identity issues last week, she discovers that she hasn't got the support of her family. Mum Carol is struggling to cope with her daughter's revelation that she feels as though she is actually a boy, and brother Barry is proving to be just as difficult. The family try mediation with Sian, but it doesn't go smoothly...
Meanwhile, Barry breaks into Sian's house and steals a precious and intimate photograph of her and Michael. Causing trouble, he brings it into school and posts it around all of the corridors. Sian doesn't know who the perpetrator is, but suspects Barry to be the culprit. He then tries to humiliate her in front of the whole class, causing Sian to completely snap. She slaps Barry, and is completely ashamed at her actions.
Michael is then put in a difficult position. He believes that Sian should be sacked for assaulting a pupil, but his loyalty is getting in the way of following the correct procedures. She confronts Michael, who says that he still has feelings for Sian. He begs her to stay at Waterloo Road, but her mind is made up. She's going to leave the school.
Then, Christine confronts Connor after finding Imogen's ring. She urges her son to break off their engagement. However, Connor defies his mum and tells her that they plan to go ahead with their engagement and he thinks they should be getting married sooner rather than later, with Imogen planning their wedding the following week.
Scout's mum Tina arrives in Scotland wanting to give their relationship another go. But it ends up throwing her daughter's plans to go to university into doubt when Scout accuses her of coming into her life and risrupting it all over again.
Get the latest updates, reviews and unmissable series to watch and more!
Thank you for signing up to Whattowatch. You will receive a verification email shortly.
There was a problem. Please refresh the page and try again.