Big Family Cooking Showdown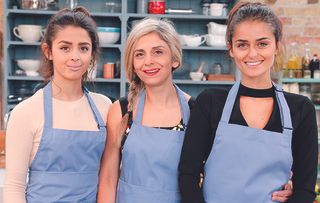 (Image credit: BBC / Voltage TV Productions)
Zoë Ball asks for a 'bellyful of amazing home-cooked food' as the Bellamys and the Bellamores go head-to-head for a place in the semi-finals
Zoë Ball asks for a 'bellyful of amazing home-cooked food' as the Bellamys and the Bellamores go head-to-head for a place in the semi-finals.
The competitive Bellamys – mum Mojgan and daughters Ocean and Faith – hope their Persian-influenced menu will wow judges Giorgio and Rosemary.
They're up against the Bellamores – Mark and his sister Jo and nephew Ross – who favour classic British flavours.
At home for the family favourites round, the Bellamys cook a traditional Persian dish of khoresh-e-fesenjan, which includes an unusual technique for cooking rice and potatoes together, while the Bellamores prepare salt-baked sea bass.
Thank you for signing up to Whattowatch. You will receive a verification email shortly.
There was a problem. Please refresh the page and try again.