Birds of Paradise: Ultimate Quest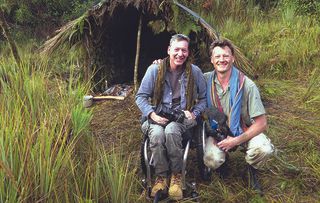 (Image credit: BBC/Tigress Productions Limited/)
On the surface this two-part documentary is about one man's quest to see birds of paradise in the wild
On the surface this two-part documentary is about one man's quest to see birds of paradise in the wild. But what actually comes to light is so much darker.
BBC security correspondent Frank Gardner has dreamed of seeing birds of paradise since he was a child, but as they live in remote Papua New Guinea his dream was left in tatters when he was paralysed after being shot by Al-Qaeda in 2004.
A chance meeting with explorer Benedict Allen, who lived with a tribe in the country 30 years ago, led to this expedition.
But Benedict's journey back to the place he once called home brings back some brutal memories.
Thank you for signing up to Whattowatch. You will receive a verification email shortly.
There was a problem. Please refresh the page and try again.