The Bletchley Circle: San Francisco - ITV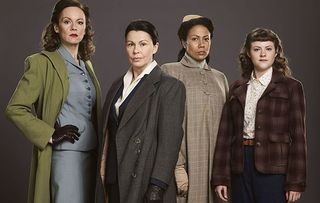 (Image credit: ITV)
Bletchley codebreakers - Julie Graham and Rachael Stirling - return in a four-part spinoff on ITV – The Bletchley Circle: San Francisco
Bletchley codebreakers - Julie Graham and Rachael Stirling - return in a four-part spinoff  – The Bletchley Circle: San Francisco.
Good news for fans of ITV's series about intrepid female World War Two codebreakers – this four-parter captures the spirit of the original and has already been commissioned for another run.
In the first instalment of a two-part story, Jean (Julie Graham) is now a librarian, minding her own business until Millie (Rachael Stirling), who is now a governess, spots a newspaper article about a woman's murder in San Francisco.
They recognise the killer's MO and fear this could be the man who murdered their friend Claire.
Determined to get justice, and bored of their mundane post-war lives, they make the journey to America to do some digging…
TV Times caught up with the pair to ask them how the series compares to 2014's The Bletchley Circle.
'The whole thing is a bit shinier and has more chutzpah,' says Rachael, who turns 53 on 24 July. 'There's a jazz underworld that we frequent, which is heaven.
'Before we had four Miss Marples in 1950s London, but now there are new characters and storyline,' she explains. 'We go into the gay community, the Cold War and communism, we touch on McCarthyism. We're introduced to a much broader spectrum of society. I'm really proud of the results.
'I haven't seen anything else on telly that is just about women using their brains – there's always other stuff at play,' she says. 'Bletchley is about bright women collaborating and the joy of the intellectual stimulation they get from each other.'
'The show has a new fresh feeling,' adds co-star Julie, 41. 'We go from drab post-war London, to vibrant San Francisco, it's a brave new world and the themes are much more modern.'
TV Times rating: ****
Get the latest updates, reviews and unmissable series to watch and more!
Thank you for signing up to Whattowatch. You will receive a verification email shortly.
There was a problem. Please refresh the page and try again.