Brax finds a broken Casey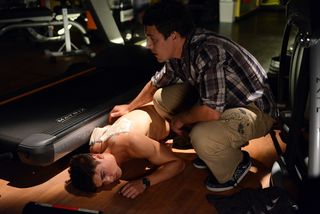 Casey starts packing up his things in preparation for moving out. Ricky urges Brax to reach out to Casey and make him know that he's still Brax's brother. He finds Casey on the floor in total agony. He's had his 'All Or Nothing' tattoo removed: the tattoo he got to match Danny's. When Casey refuses to go to hospital, Brax calls Ricky and asks for Nate's number as a last resort.
Darcy calls Heath and tells him that she and Harley are lost. They eventually find the children but Harley is unresponsive. Harley is rushed to hospital where Nate immediately puts him on fluids. Finally the couple are told that Harley's body was going into shock and that hospital staff are now trying to prevent organ failure.
When the twins touch base with Hannah, she's exhausted and explains that she was up tending to Tamara after she was involved in a hit-and-run. Oscar immediately begins to panic and sees that one of Zac's headlights is broken. Evie tells Oscar not to say a word: Tamara will be fine and he doesn't even know for sure that he hit her.
Leah tells Zac that Tamara was found on the road to the farm when she was hit. Zac, still under the impression that he drove himself home the day before, sees the broken headlight. Oscar and Evelyn realise that Zac suspects that he was the perpetrator of the hit-and-run.
Get the latest updates, reviews and unmissable series to watch and more!
Thank you for signing up to Whattowatch. You will receive a verification email shortly.
There was a problem. Please refresh the page and try again.