Cain and Charity go public with a kiss in the pub!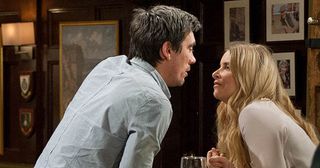 (Image credit: Andrew Boyce)
Cain kisses Charity in public to make their position clear, but Moira isn't there to see it. Jai and Holly keep their romance secret
*First episode*
Cain and Charity decided they had nothing to hide and made a very public show of their affection, especially for the village gossips. They knew that would get the word around fast they are back together. Charity is relieved, too… Chas had told her that Cain will never love her the way he loves Moira and that made Charity fear she could still lose him. But she knows Moira will go nowhere near Cain now that they are officially a couple.
Moira, meanwhile, was blissfully unaware of the show being put on by Cain and Charity in the pub and was busy pushing ahead with her plans to sell up and move away.
The farmer also still had no idea that the new man in Holly's life is Jai, who was happily being teased by Carly and Bob about his mystery girlfriend as he texted Holly. But Moira's world was about to come crashing down around her when she discovered her daughter drug addict Holly had succumbed to heroin, overdosed and was dead in her bed with a telltale empty drug wrap lying on the floor of her room…
Get the What to Watch Newsletter
The latest updates, reviews and unmissable series to watch and more!