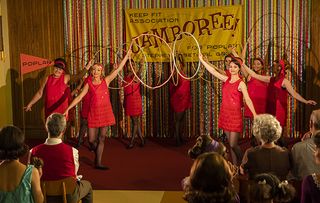 (Image credit: BBC/Neal Street Productions)
In Call the Midwife, Trixie's keep-fit class is chosen to host a special event, and Sister Julienne is drawn into a conflict between an estranged mother and daughter, both of whom are pregnant
In Call the Midwife, Trixie's keep-fit class is chosen to host a special event, and Sister Julienne is drawn into a conflict between a mother and daughter...
Trixie's in a gung-ho mood tonight as she tries to get her keep-fit ladies ready for a jamboree.
Matters take an emotional turn, though, when one of her class, mum-of-two Jeannie, becomes distraught at the news that she's pregnant again and decides to take drastic action.
Sister Julienne tries to help a mother and daughter who are both pregnant but are at loggerheads as the daughter is married to a Sikh man (Omar Malik).
When one of the mums-to-be experiences complications with her labour, can they reconcile?
Amid all the drama, Phyllis (Linda Bassett) and Sergeant Woolf (Trevor Cooper) go on a date.
But Phyllis is still playing hard to get!
TV Times rating: *****
Here, in an exclusive preview, stars Jennifer Kirby, 30, Jenny Agutter, 66, and Helen George, 34 – alias Valerie, Sister Julienne and Trixie – tell TV Times about two of the new Call the Midwife storylines the team will be tackling…
The great debate
The dangerous consequences of backstreet abortions in 1960s Poplar will become apparent…
Jenny: Some abortionists are doing it in a way that isn't right, some are helping women. But it's a community, so problems are overcome.
Helen: This week, Jeannie [Molly Chesworth], a young married mum, is pregnant but doesn't want more children.
Trixie's her friend so it's heartbreaking, but the midwives feel helpless as their hands are tied by the law.
We look at the legal and medical arguments from every point of view and let the viewer decide. There's a taboo still, so it's an interesting debate.
Jennifer: The midwives feel a duty of care for these women – it's unsafe and the law puts women in danger.
We've been in tears filming and feel so deeply about it. This series has already opened up more conversation, which we're pleased about.
I love that Call the Midwife never shies away from difficult subjects.
Old problems, new solutions
Pioneering medical initiatives are set in motion in forthcoming episodes, and there will be some rare cases, such as the discovery that one woman is intersex…
Helen: What's great about the [intersex] story is seeing the human side – the injustice of a young woman trying to find herself and realising she doesn't know the fundamentals of her body.
Jenny: We're presenting new freedoms that come with science and the changes in laws.
Jennifer: There's awareness of men's health, with prostate tests. There's also an emphasis on women's rights and the midwives get involved with the Brook Advisory [family planning and sexual health] clinics. It's about providing knowledge, which they feel strongly about.
Helen: The smear test also comes to Poplar. That story made me get a smear test. It's the 10th anniversary of Jade Goody's death, so there should be another push. You look after everyone else and often forget to do things for yourself!
Get the latest updates, reviews and unmissable series to watch and more!
Thank you for signing up to Whattowatch. You will receive a verification email shortly.
There was a problem. Please refresh the page and try again.