Can Ric save Jess from domestic abuse?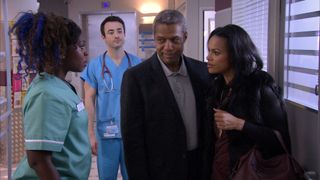 (Image credit: BBC)
When his estranged daughter, Jess, turns up at Holby unannounced, Ric desperately wants to be the father to her that he wasn't able to be when she was growing up. And it becomes clear that Jess needs her dad when she reveals she's on a trial separation from her husband, David. Jess is in pain and Ric diagnoses an epigastric hernia but when further tests reveal she has multiple fractured ribs, he realises that David has been abusing her.
Jess is just about to leave the hospital when Ric spots her and says he knows about the abuse. As Jess worries David will find her, Ric assures her that is David dares come anywhere near her, he'll kill him...
Meanwhile, Dominic stumbles in late, unaware that Guy is on a mission to boost the Tressler Neurosurgical Foundation's profile. Desperate to prove himself, Dominic is paired with a difficult patient who pushes him to the limit - with Billy Tressler on the ward will Dom manage to keep his cool?
Also, Bonnie wants to celebrate her 30th birthday in style and plans to take boyfriend Jonny on a weekend away. But when she realises Jonny's so distracted by his duties on the ward and caring for Emma that's he's forgotten it's her birthday, Bonnie knows she must fight for her relationship.
Get the latest updates, reviews and unmissable series to watch and more!
Thank you for signing up to Whattowatch. You will receive a verification email shortly.
There was a problem. Please refresh the page and try again.