Casualty spoilers: Dylan's sobriety is on the line!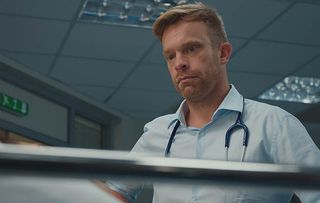 (Image credit: BBC)
Casualty reveals: Dylan suspects Ciara is the victim of domestic abuse, and is Charlie and Duffy's marriage on the rocks?
Dylan, it's complicated...
Doctor Dylan Keogh is back at work and celebrating seven days of hard won sobriety. Dylan's hopes for a hassle-free hospital shift are dashed, however, when his married, alcoholic, ex-girlfriend Ciara Cassidy (Belinda Stewart-Wilson) is admitted to the ED by her husband Joel!
Ciara is suffering from a drink-related injury and Joel (Gyuri Sarossy) insists Dylan treats her, as he suspects their relationship isn't strictly professional and secretly wants to observe them together…
Fragile Dylan reluctantly agrees to treat Ciara and is anxious to discharge her quickly - until he realises she's injured in more than one place.
Something that causes Dylan to wonder, is Joel guilty of domestic violence?
Meanwhile, unknown to Dylan and Ciara, Joel manages to manipulate nurses David Hide and Robyn Miller into revealing that Ciara recently miscarried Dylan's baby.
The two men's mutual suspicion reaches boiling point when Dylan discovers Joel's been secreting supplying self-destructive alcoholic Ciara with booze! Worried about Ciara's wellbeing Dylan privately reveals the true extent of his feelings for her, in the hope she feels the same. Yet, in doing so, Dylan risks his delicate sobriety…
Louise's hellish first day
Nurse Louise Tyler's first day in her new senior nursing position gets off to a terrible start when inspectors from the CQC turn up for an in-depth inspection of the ED. Meanwhile Louise's demands leave nurses Robyn and David bristling. Will they down tools to teach her a lesson?
Charlie and Duffy divided
Elsewhere, nurse manager Charlie Fairhead calls his nurse wife, Duffy, back to the short-staffed ED even though she's not long finished a night shift. When overtired and overworked Duffy makes a near-lethal mistake Charlie and Duffy exchange heated words on the wards, resulting in Charlie ordering Duffy home, as she's not fit for duty. Distraught, Duffy heads to the pub to collect her thoughts where she runs into childhood sweetheart Bill. Will he be a shoulder for her to cry on?
Also this week...
Paramedic Ruby Sparks suspects a shout-out isn't all it seems, porter Gem Dean accidentally injures a hospital visitor, effectively making him a patient, Louise struggles with her demanding new role, and clinical lead Connie Beauchamp takes a tough line with Dylan…
Get the latest updates, reviews and unmissable series to watch and more!
Thank you for signing up to Whattowatch. You will receive a verification email shortly.
There was a problem. Please refresh the page and try again.