Casualty spoilers: Punch up after the funeral of Sam Nicholls. Ethan and Alicia kiss!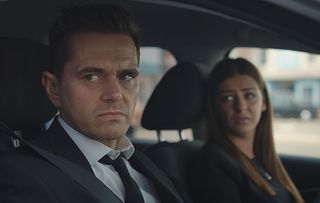 (Image credit: BBC)
Sam's funeral turns into feud when Iain unravels and Dylan ends up needing stitches!
An emotional storm is brewing at Sam Nicholls' funeral when cold-fronted doctor Dylan Keogh clashes with hot-headed paramedic Iain Dean! Elsewhere, doctors Ethan and Alicia share a tender kiss after treating a vulnerable young patient together. Could this be the start of a new chapter for the troubled pair? Full Casualty spoilers below…
In this week's Casualty grieving paramedic Iain Dean's plans to deliver a moving eulogy at Sam Nicholls' funeral are derailed when he steps up to the pulpit. First Duffy's phone goes off and then doctor Dylan Keogh – Sam's ex-husband – blames him for her tragic death!
Dylan's hard words hit home for Iain (Michael Stevenson), who believes if he'd made a different judgement call on the night of the multi-car crash Sam could still be alive today. After the funeral, Iain confronts Dylan outside the hospital. Dylan verbally goads Iain and, in response, Iain lashes out physically!
The fight comes to an end when Iain punches Dylan, and their bosses Jan Jenning and Connie Beauchamp intervene. But that's not the end of the story… Iain decides not to attend his work tribunal, effectively quitting his job!
Elsewhere, when doctor Alicia Munroe and nurse David Hide are treating a young boy who seems terrified of his father, doctor Ethan Hardy wants to call social services.
Alicia however, has other ideas, and Ethan follows her lead. Later, Alicia thanks Ethan and the pair share a tender kiss.
After the ruckus at Sam's funeral, nurse Jacob Masters and his teenage son Blake are both left shaken. Will their grief bring them closer together or tear them apart?
Also this week, David is dubious of Dylan's budding relationship with recovering alcoholic Ciara. Dylan, on the other hand, seems grateful for her support during this emotional time. Will they become a fully-fledged item?
Nurse Louise Tyler sets her sights on the vacant Band 6 nursing post.
Iain continues to take his emotional turmoil out on fledgling paramedic Ruby Sparks.
And Connie puts some money behind the bar to give Sam a good send off. Will she break her rule and actually join the ED staff for a drink?
Get the latest updates, reviews and unmissable series to watch and more!
Thank you for signing up to Whattowatch. You will receive a verification email shortly.
There was a problem. Please refresh the page and try again.