Casualty Spoilers: Jacob's childhood trauma revealed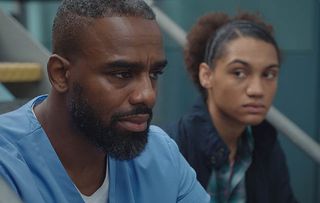 (Image credit: BBC)
This week in Casualty Jacob reveals his secret pain, Iain turns violent and Gem is horrified by Rash's unromantic actions…
Nurse Jacob Masters has turned into a loveable Dadzilla since discovering his best friend Elle Gardner's teenage son is actually his boy too. Despite the initial shock Jacob and teenager Blake have now forged a close bond. So when Blake repeatedly avoids answering his phone Jacob begins to freak out a little…
Unknown to dad, Jacob, and mum, Elle, Blake has secretly contacted his paternal grandmother, Omo Masters, and is spending time with her. This week, however, his world comes crashing down when distressed Omo begins hearing voices and Blake needs a police escort to admit her to Holby ED.
Worlds collide as shocked Jacob tries to grasp the situation, Elle begins treating Omo, Blake withdraws, and Omo struggles with her illness. Later Jacob (Charles Venn) finally comes face-to-face with his mum, and it's clear she's terrified of her son, who's heartbroken by her reaction to him.
When Omo's schizophrenia causes her to harm herself, Blake witnesses his parents restraining his gran in upsetting scenes. Will Blake listen to Jacob as he tries to explain why he left home at a young age? Read our exclusive interview with Charles Venn
Elsewhere, still blaming himself for the traffic accident that killed his paramedic partner Sam Nicholls and suicidal Mia Bellis, Iain Dean turns violent!
Since the pile-up that left numerous people dead, Iain has been haunted by pain and guilt. Iain suffered further stress when he recently attempted to help Mia's troubled boyfriend Base - only for the grieving drug addict to do a runner with a bag of drugs from Iain's ambulance. As a result Iain's rookie colleague Ruby Sparks mistakenly believes he's developed a drug habit!
This week Iain's tipped over the edge when he fails to save an addict who overdoses in a local playground. Back at the ambulance station Iain's feelings of helplessness boil over and he punches the window of his ambulance in frustration, injuring himself in the process! Ruby wants answers, but with Iain unable to discuss his true feelings, Ruby questions how long she can continue to cover for him…
When their boss Jan Jenning (Di Botcher) demands answers about the damaged vehicle, will Ruby lie to protect Iain, or reveal his increasingly erratic behaviour?
Also this week…
Doctor Alicia Munroe turns down doctor Ethan Hardy's invite to go for a drink. But she does agree to a night in with a takeaway! Things take an eventful and unexpected turn when Alicia's flatmate Gem Dean invites her boyfriend Rash Masum over…
Hospital porter Gem is over the moon when she bags the big room in her flat share with Alicia and Ruby, as it means she and junior doctor Rash can spend their first night together. When the evening doesn't go to plan, confused Gem feels humiliated. Will this spell the end of Gem and Rash's budding romance?
Nurse Duffy receives an impressive bunch of flowers from old boyfriend Bill.
And why is doctor Dylan Keogh nowhere to be seen?
Get the latest updates, reviews and unmissable series to watch and more!
Thank you for signing up to Whattowatch. You will receive a verification email shortly.
There was a problem. Please refresh the page and try again.