Coronation Street spoilers: Will Eileen Grimshaw leave Weatherfield with Jan?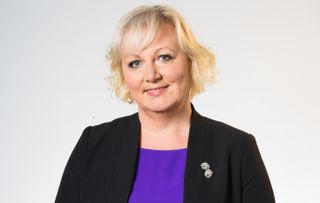 (Image credit: Mark Bruce)
Now she knows the truth about Jan, Eileen Grimshaw starts thinking about her future…
Jan tells Eileen Grimshaw in Coronation Street that he loves her and wants her to move away with him to Amsterdam. Later, Paula confirms Jan's story that he was a police informant and he must love her very much to risk coming back to Weatherfield to see her. It's clear Eileen has been given food for thought about her future.
Stuck between a rock and a hard place, Robert is forced to tell Michelle the van was broken into and the ring stolen. When Craig comes to take the details about the theft, Michelle is bemused to discover he was in Macclesfield at the time. Will she realise what Robert has been up to ?
Ryan continues to string Gary along. Meanwhile, Derek is bigging up his part and starts chatting up Sarah. When a drunk Derek threatens Gary that he will pocket the cash from the factory, Gary sees red and makes it clear it would be the last stunt he ever pulled.
After visiting David, Shona apologises to Max for failing to realise it was Kylie's birthday. Giving him a hug, she hopes they can get back on track, unaware he's not taking his medication. Billy tells Emma to follow her heart if she wants to get to know Steve.
Second episode of Coronation Street this evening.
Get the latest updates, reviews and unmissable series to watch and more!
Thank you for signing up to Whattowatch. You will receive a verification email shortly.
There was a problem. Please refresh the page and try again.