Dom's mood swings are explained!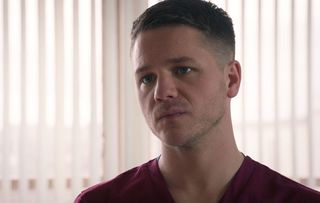 (Image credit: BBC)
When the medic's anger boils over, nurse Lofty vows to find out what's wrong…
Dom is marching around Keller ward like a bear with a sore head, and he has little patience for Mim, who's been admitted with a bout of severe diarrhoea. Nurse Lofty is on hand to help – but Dom loses his temper with him when he's late with Mim's fluids.
Concerned by his colleague's erratic behaviour, Lofty talks to their boss Sacha, who lets slip about the 'rough time' Dom had with lover Isaac. Dom's furious with Sacha for blabbing about his personal life and ends up clashing with him on the ward!
Lofty finds an angry Dom in the staff locker room and tries to find out what's troubling him. Dom doesn't want Lofty's help, though, and storms out. That's when Lofty notices Dom's workbag – and spots a bottle of steroid pills that's fallen out.
Lofty returns the pills to Dom, warning him of the health implications of taking them. Dom insists he's not addicted, but when Lofty catches Dom popping more pills, will he be able to help him personally and professionally?
Meanwhile, a fully recovered Fran is fighting fit as she starts work as a nurse on AAU. With Jac and Jasmine at odds, and Jasmine about to leave for a new job in London, Fran makes it her business to reunite them. Fran's mood soon changes, though, when it looks like Jas is staying put...
With Jason's expert help, new FI doctor Damon eventually makes it up onto Darwin for his first shift. As he tries to stand out and impress Matteo, will Damon realise he's lost in more ways than one?
Get the latest updates, reviews and unmissable series to watch and more!
Thank you for signing up to Whattowatch. You will receive a verification email shortly.
There was a problem. Please refresh the page and try again.