Doctor Dylan Keogh's new drink dilemma in Casualty!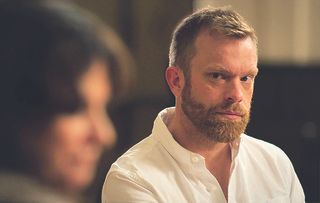 (Image credit: BBC)
The alcoholic doctor has a tough first day back at the ED. Will he be blackmailed into drinking again?
This week sees the return of a newly sober doctor Dylan Keogh to the ED - and his first day back is a non-stop rollercoaster when two members of his Alcohol Anonymous group turn up needing urgent treatment!
The last time we saw Dylan (William Beck) he was struggling to run the ED in Connie Beauchamp's absence and drinking heavily. When his boozing became out of control Dylan resigned as acting clinical lead and took a leave of absence to get his life in order…
This week Dylan does everything he can to maintain professional in a compromising situation. First he battles to save the life of Joseph Moore (Fearless star James Thorne), who's had a stroke. Dylan then reaches out to fellow alcoholic Ciara Cassidy (The Inbetweeners' Belinda Stewart-Wilson) who's downing wine in the pub after an intensely emotional day. Ciara pours Dylan a glass and demands he gets drunk with her if he wants her to listen.
Will Dylan be tempted to have a drink with Ciara?
Meanwhile, acting clinical lead Ethan Hardy is happy to have Dylan back on board. But even with an extra pair of hands there's no shortage of challenging cases – including a hypnotised woman who thinks she's a chicken!
Stressed Ethan is still trying to weed out the anonymous blogger responsible for Rage in Resus. He puts together 2 plus 2 and comes up with… new junior doctor Bea Kinsella! Bea does everything she can to show her commitment to the job but is she fighting a losing battle while Ethan thinks she's the ED's biggest critic? Eager to impress and stressed, Bea makes a dangerous judgement call…
Elsewhere, soon after learning about Gem Dean's past, junior doctor Rash Masum openly accuses her of stealing his wallet, leaving Gem hurt and humiliated. Naturally, rceptionist Noel, porter Glen and cleaner Cymon come up with a clever way to teach Rash a lesson…
Also this week, will Rash and his mum (a welcome reappearance by Buckso Dhillon-Woolley) stumble on Bea's secret life when they offer to give her a lift home, after her car breaks down? (It really isn't Bea's day).
Get the latest updates, reviews and unmissable series to watch and more!
Thank you for signing up to Whattowatch. You will receive a verification email shortly.
There was a problem. Please refresh the page and try again.