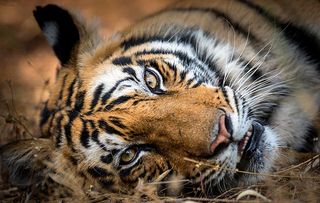 (Image credit: BBC NHU/Theo Webb)
The last in David Attenborough's spectacular wildlife series follows a tiger in India's Bandhavgarh Reserve as she raises four cubs and fends off enemies
With only 50 per cent of tiger cubs surviving until adulthood, tigress Raj Bhera faces a daily struggle to keep her four cubs alive.
Although they live in Bandhavgarh National Park Tiger Reserve in India, a relative safe haven, the tigers still have to contend with the worst drought in a decade, a scarcity of prey and the chance of attacks by other tigers.
Then, when a desperate Raj Bhera strays into a village looking for food, she comes face to face with her most lethal enemy yet – humans.
Can she survive this encounter and ensure her dynasty lives on?
Stay tuned for the 'making of' segment of Dynasties where David Attenborough and the film crew explain more about how this amazing series came to be.
TV rating: ****
In an exclusive interview with TV Times, director Theo Webb shares the highs and lows of following Raj Bhera and her cubs from when they were two weeks old…
Why did you focus on Raj Bhera? I've loved tigers since I was a kid and it's a dream to film them. We wanted to show a mother raising cubs, but Raj Bhera also has to adapt to a changing world and she does that really well; she's amazing. She's special because she ignored us, so it was easy to film her.
Why are the cubs so vulnerable? When they're little, they face threats from other mammals in the park, such as bears, jackals and leopards, and other male tigers. As they grow older, it's about keeping them fed and they rely on Raj Bhera. The only female cub, Biba, was smaller and her brothers would eat first and she'd be left behind but that led to her hunting for herself and learning those skills quicker.
Raj Bhera leaves the park and goes in search of food near a village. Was that shocking to witness? Yes. Modern tigers face habitat encroachment and when they run into conflict with humans, that's not good. It's worrying because you don't know what's going to happen and you don't want any people, or her, to get hurt and there is a twist…
Get the latest updates, reviews and unmissable series to watch and more!
Thank you for signing up to Whattowatch. You will receive a verification email shortly.
There was a problem. Please refresh the page and try again.