EastEnders spoilers: Is Alfie Moon's life about to fall apart?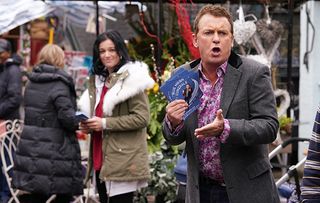 (Image credit: BBC / Kieron McCarron)
Jean gives Alfie and ultimatum about the baby, Mel drops a bombshell on Maddie, and Evie piles the pressure on an impressionable Tiffany.
Alfie decides he needs a TV for his latest scheme and he talks Ian into letting him borrow his. But is he on the level? Soon, Alfie is on the case trying to plan an event for his latest venture, 'Blue Moon Funerals'. Needing some help, Alfie asks Hayley to get on board. After spending time with him she realises he's being honest about how much their baby means to him.
When Jean sees the two of them talking she is angry that Alfie is laying on the charm to get Hayley to help him out. Alfie's event gets underway and he manages to impress Kat, even winning her round with a touching gesture.
His actions with Kat, however, have left Hayley distraught and he tries to apologise. Jean is frustrated to see them alone together. Interrupting, she tells Alfie she knows the truth about the baby and she gives him an ultimatum – tell Kat or she will!
Mel is still determined to get to the bottom of things with Ray and she tries to subtly get some answers out of him. After arranging to meet up with Maddie, she steals Ray's warrant card then heads out. When she sees Maddie she reveals that she's Ray's fiancée!
A stunned Maddie is doesn't want to believe it, but Mel convinces Maddie that it's the truth. Then she drops another bombshell…
Also, Evie continues to pressure Tiffany into giving Keegan drugs. Desperate to impress Evie, she does as she's told but Bernadette is horrified when she catches her out. Meanwhile, Billy gets an idea from Alfie on a way to get one over on Adam.
EastEnders continues on BBC1 on Friday.
Get the latest updates, reviews and unmissable series to watch and more!
Thank you for signing up to Whattowatch. You will receive a verification email shortly.
There was a problem. Please refresh the page and try again.