EastEnders spoilers: Bernadette Taylor faces up to an irate Evie!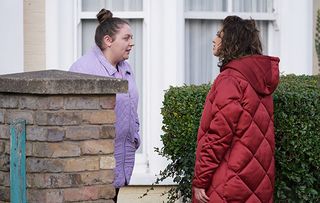 (Image credit: BBC / Kieron McCarron)
Bernadette makes trouble for Tiff with drug dealer Evie, Mick goes overboard over an accident and Rainie pushes herself too far.
Tiffany realises that there's someone in Ted's empty flat. Sneaking a look, she sees one of Evie's young 'employees', Rat. When she discovers Rat is going out to deliver drugs, Tiffany is shocked. Evie turns up and it's clear that Rat is keen to impress her.
Tiffany decides to take Rat under wing. Meanwhile, Evie heads off to find an addict, Craig, who owes her money and she makes some nasty threats. Evie won't let Tiffany take Rat on the job, so Tiffany gets Bernadette to cover for her. When Bernadette sees Evie, however, she accidentally lands Tiffany in it. Evie is furious that Tiffany has gone against her.
Karen needs her bathroom fixing and she persuades Mitch to sort it out. When he turns up in the Square to visit the Taylors, he leaves a girl, Bailey, waiting in his van. Drug addict Craig attempts to break into the van and is taken by surprise to see Bailey, who hits him.
Mitch is keen to keep Bailey out of the way and he gives her a football to keep her busy. But it turns out to be a huge mistake, as Bailey sends the ball flying through one of The Queen Vic's windows! A touchy Mick completely overreacts and Mitch is forced to step in, claiming that Bailey is his mate's daughter.
Max's grand plan to have a special first birthday for Abi falls apart when he ends up stuck at work. Jack does his best to rescue the birthday party, concerned that Rainie is still out of sorts. Determined to help, Rainie insists she's feeling fine. But when Max gets home he suspects she's still unsteady on her feet and he is sharp with her.
A hurt Rainie storms off, accidentally leaving the front door ajar. It proves to cost the Branning household, as drug addict Craig, still desperate for cash to pay off Evie, sneaks into the house. He later gives Evie the money he owes her.
EastEnders continues on BBC1 on Friday
Get the latest updates, reviews and unmissable series to watch and more!
Thank you for signing up to Whattowatch. You will receive a verification email shortly.
There was a problem. Please refresh the page and try again.